Ubisoft revealed the new season for Rainbow Six Siege which's called Operation Void Edge. This new season features two brand-new operators – Oryx and Iana. Oryx is a defender roamer with the ability to run through soft walls and climb up broken hatches. While on the other hand, Iana can deploy a full hologram of herself which she can control. Today, we have a new peak player record for Rainbow Six Siege.
Rainbow Six Siege Hits New Concurrent Peak Player Record
According to Steam Charts, the game has broken yet another peak player record, now at 178,419 concurrent players high. Keep in mind that this record is only the player base on Steam. If you've played Rainbow Six Siege before, you would know that the title has a separate port on Uplay itself.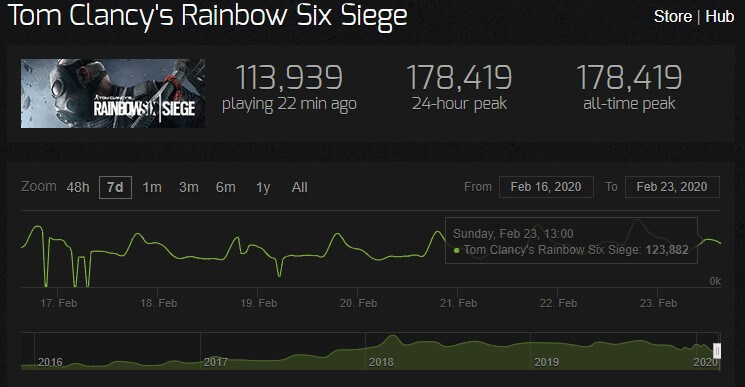 Another thing to notice that this new record is before the release of the new season that's Operation Void Edge that is currently live on Siege's test servers and coming to live servers very soon. So, when the new season kicks in, we'll definitely have a new peak player record for this game.
We'll have to wait and see if the new season breaks the current peak player record. Have you seen the new trailer for Operation Void Edge's operators? What are your thoughts on them? Let us know in the comments!
Tom Clancy's Rainbow Six Siege was released on December 1, 2015, on PlayStation 4, Xbox One, and PC.