Update: Bungie has officially announced the Destiny 2 Showcase on its website. There will be a pre-show starting at 8 AM PDT with the actual showcase starting at 9 AM PDT.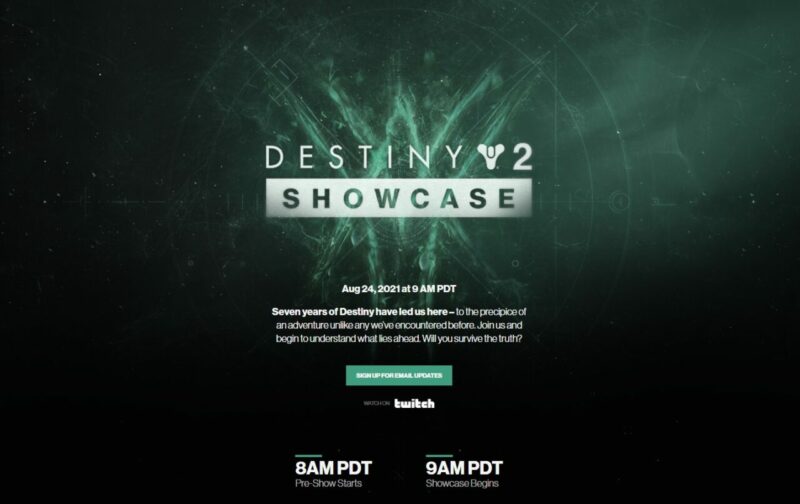 ---
Original Story: It looks like the teasers for Destiny 2 The Witch Queen and Season 15 have started with Bungie sending content creators a music box for the Destiny 2 Showcase featuring a mysterious soundtrack.
MsKenner, a Destiny 2 content creator, posted this clip on Twitter with this music box from Bungie. Take a listen:
👀#Destiny2 #destinythegame #bungie @DestinyNewsCom @RaidSecrets @Bungie @DestinyReddit pic.twitter.com/i6GOl47TH9

— Ms Kenner (@ms_kenner) August 13, 2021
On the inside of the box, we can see the timings for the Destiny 2 Showcase reveal event for The Witch Queen and Season 15 that's happening on Tuesday, August 25, 2021, at 8:40 AM Seattle and 5:40 PM Amsterdam. In case you don't know, Bungie's headquarter is located in Seattle, US. Earlier this year, Bungie also announced the expansion of its studio in Amsterdam, Netherlands. So, that's the reason we have two timezones with two different locations in this music box.
Read More: Bungie and Ubisoft Suing Popular Cheat Seller Ring-1
Destiny 2 Season 15 launches on the same day as this showcase, which is similar to what we've seen last year with the reveal of Beyond Light and Season of Arrivals. Bungie has already revealed a bunch of changes coming in season 15. From cross-play to a brand-new Iron Banner armor set and two new weapons.