Cyberpunk 2077 is the next AAA title from CD Projekt RED (developers behind The Witcher franchise). The game was announced back in 2013 with no release date whatsoever. And after 6 years or so, CDPR officially the title with its amazing visuals and Keanu Reeves (breathtaking). Cyberpunk 2077 was originally going to release on April 16, 2020, on PlayStation 4, Xbox One, Google Stadia, and PC. But unfortunately, CDPR made an announcement last week that the title will be getting a delayed release with an update date on September 17, 2020.
Xbox One – The Reason Behind Cyberpunk 2077 Delay?
According to the podcast from Remigiusz Maciaszek A new report over on Discord has surfaced from a Polish insider named Borys Niespielak, who has been pretty legit according to other polish users in the Discord server. He also goes by Jason Schrier of Poland. Translated from Polish (by Klawiaturodzierzca), the report says, "Why the premiere was delayed? Borys came to the information, and very strongly confirmed that the biggest problem is Xbox One (i.e, the first version from 2013) and the game there is extremely unsatisfactory. He got information that if this problem with this Xbox has not been solved by January, the premiere must be postponed."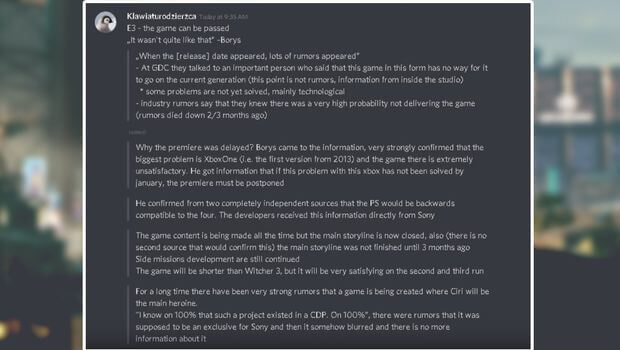 Now, we do have to take all of this in with a grain of salt as it's still a rumor and there's been nothing confirmed about it. "He confirmed from two completely independent sources that the PS(5?) would be backward compatible with the four (PS4). The developers received this information directly from Sony," the source claims.
While most of us already knew the reason behind Cyberpunk 2077's delay, this does put a little confirmation about why the delay happened. You can watch the podcast below. What are your thoughts on this? Let us know in the comments!
Cyberpunk 2077 will be released on September 17, 2020, on PlayStation 4, Xbox One, PC, and Google Stadia.
Source: Altchar