Solstice of Heroes is one of the best events in Destiny 2. The event first started in 2018 and brought really unique-looking glowing armor sets for each class (Hunter, Titan, and Warlock) to grind for. Last year's Solstice event started on July 30th and ended on August 27th. Find out the release date for Solstice of Heroes 2020 in Destiny 2 below.
Destiny 2: Solstice of Heroes 2020 Start Date and End Date
According to the Season of Arrivals roadmap, Solstice of Heroes 2020 will start on August 11, 2020, and will run through September 8, 2020. The roadmap also suggests that this year's Solstice event will be "New Glowing Legendary Armor" which is pretty clear already.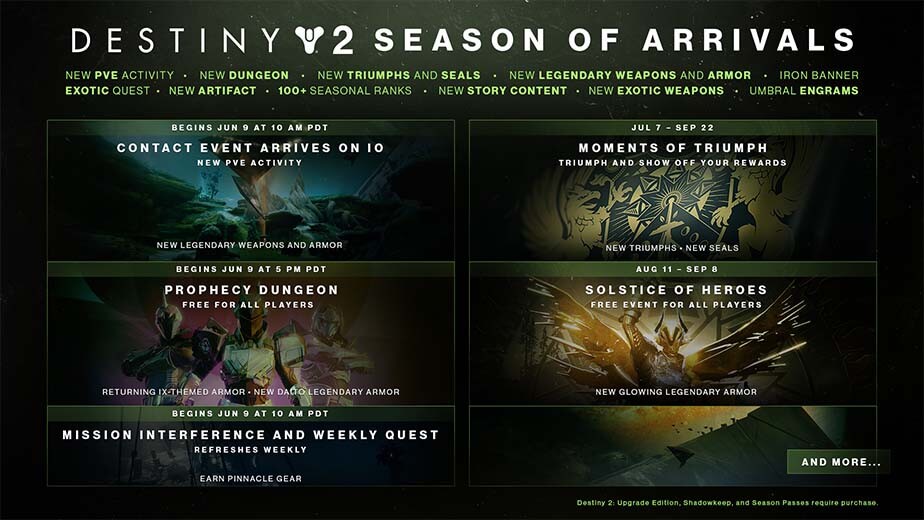 Season of Arrival is going strong in Destiny 2 with a mostly positive reception from the community. Bungie talked about their plans for Destiny 2's future in yesterday's stream and revealed three new expansions coming in the next two years until 2022.
This has gotten the Destiny 2 community really excited as the newly revealed expansions will finally focus on the long-awaited "Darkness" and "Savathun." Speaking of Season of Arrival, Bungie has added a brand-new quest that's probably the longest one we've got recently. Here's our complete guide on how you can complete this new exotic quest.
Destiny 2 will be available on next-gen consoles, PlayStation 5, and Xbox Series X. Players who own Destiny 2 Beyond Light on current-gen consoles will get a free upgrade to next-gen consoles. What are your thoughts on this? Let us know in the comments!