Destiny 2 Twitch Prime loot drop for November 2021 is now live for users who are subscribed to Twitch Prime Gaming. Last month, we've had Dark Horse Exotic Sparrow, The Bandwagon Exotic Ship, Rust Punk Shell Exotic Ghost, and Hold On Legendary Emote.
You can find this month's rewards list below.
What are the Destiny 2 Twitch Prime Rewards For November 2021?
For November 2021, we have three exotic items (exotic ship, exotic sparrow, exotic ghost shell, and legendary ship) and one legendary item. Players who are subscribed can claim The Cup of Tea Exotic Bundle Drop right now.
Cup of Tea Exotic Emote
The Grateful Crane Exotic Sparrow
Intrepid Exotic Ghost Shell
Technical Meltdown Legendary Ship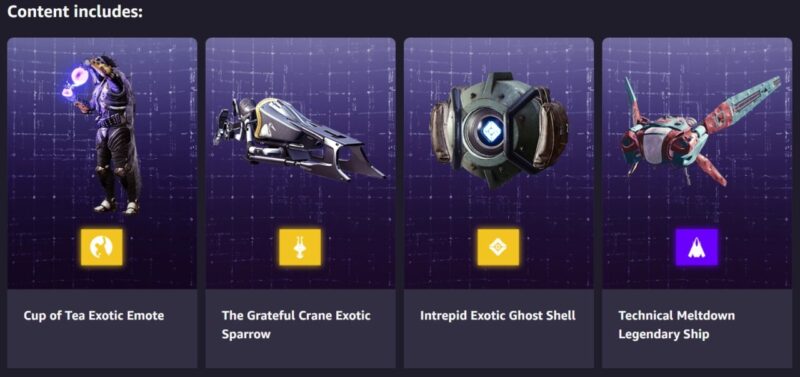 Players have a little over one month to claim these rewards starting from November 3, 2021, until December 7, 2021. Speaking of, Bungie 30th Anniversary Pack also launches on December 7th, which will bring new content and fixes to a lot of bugs.
In order to claim your Twitch Prime Gaming rewards in Destiny 2, make sure you have your Bungie.net account connected to your Twitch account.