Santa Monica Studio, the developer behind the critically acclaimed God of War franchise has released a new statement on its official channels asking fans to be cautious of any God of War Ragnarok leaks and story spoilers that may have been floating online.
As per the statement, the developer is strongly advising fans to "mute any keywords or hashtags associated with the game until release day."
"As we approach launch, it is important for our studio to preserve the experience of God of War Ragnarök for players who want to enjoy the game for the first time without spoilers.
"We ask that you please be considerate of the many fans who do not want to accidentally see clips, gameplay, or narrative spoilers and avoid sharing them wider.
"We are doing our best to limit the exposure of unsanctioned footage and screenshots, but the reality is that we cannot catch everything.
"For those of you who do not want to risk seeing anything before launch, we strongly advise that you mute any keywords or hashtags associated with the game until release day.
"We appreciate the support you've shown us more than we can say. We can assure you it will be worth the wait to experience the game yourself when it is released in less than two weeks on November 9th."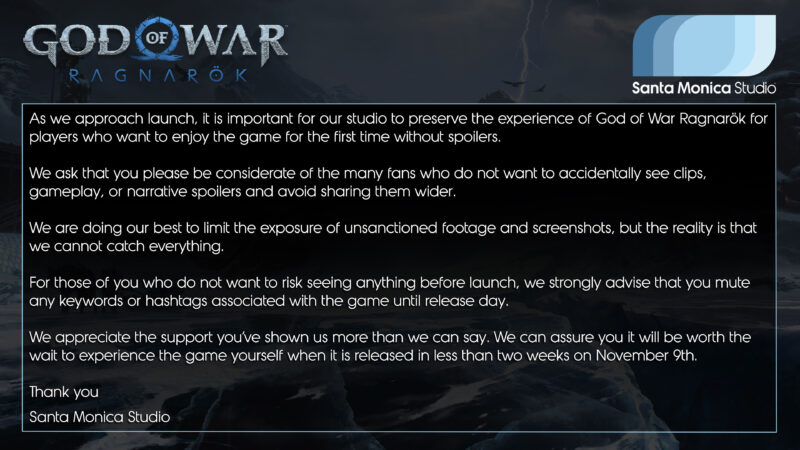 Cory Barlog, one of the game directors behind the God of War games, recently expressed disappointment after the recent God of War Ragnarok leaks surfaced online.
"A retailer selling the game nearly TWO WEEKS before release. Just so disappointing," Barlog said in a tweet.
"Sorry to everyone that you have to dodge the spoilers if you want to play the game fresh. Completely f***ing stupid you have to do this. This is not at all how any of us at SMS wanted things to go."
God of War Ragnarok is now less than two weeks away, releasing on November 9, 2022, on PlayStation 4 and PlayStation 5 consoles.