There was been a lot of chatter in the industry about the size of Microsoft's Xbox Series X when it was officially revealed back in early 2020. With Sony's PlayStation 5 console now revealed, players are wondering how much bigger or smaller the PS5 is as compared to the Series X. Today, we're going to discuss the size comparison between PlayStation 5 and Xbox Series X, along with other past-gen consoles.
PlayStation 5 vs. Xbox Series X: Size Comparison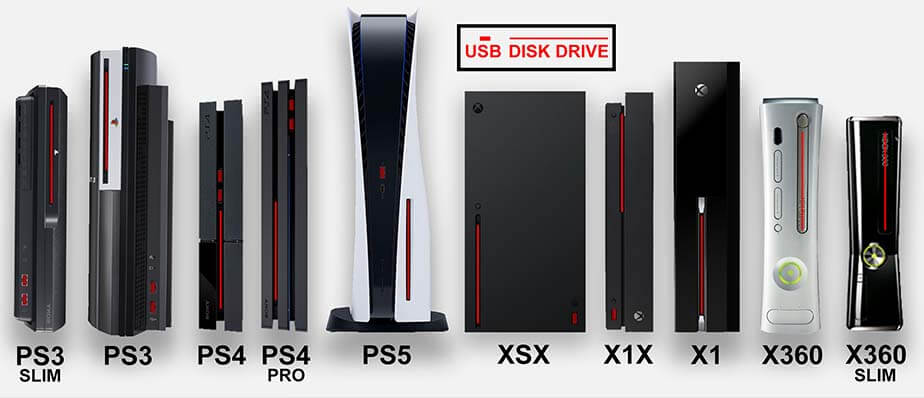 If you're thinking the PlayStation 5 is smaller than the Series X, you're mistaken. The image your seeing above (by Reddit user GREBO7) is the size comparison between PlayStation 5, Xbox Series X, PS4, PS4 Pro, Xbox One XB One X, PS3, PS3 Slim, Xbox 360, and 360 Slim. And you can clearly see that Sony's PlayStation 5 console is the tallest of them all…and a bit chonkier compared to PS4 and Xbox One X.
This size was measured by the disc drives and USB ports on all consoles. With Xbox Series X being officially called a "Fridge," many players are calling the new PlayStation 5 a "Router" which is clearly understandable.
In other news, Sony has revealed that PlayStation 5 is very gorgeous and will have surprising features in person. As for the games, we've compiled a complete list of titles announced during the PS5 reveal event. You can view this list here.
What are your thoughts on this size comparison between PS5 and XSX? Are you a fan of how tall the new console looks? Let us know in the comments!
PlayStation 4 was officially released on November 15, 2013, in the United States and Canada. PlayStation 5 release date is expected in the holidays of 2020.