Your monthly PS Plus games for July 2020 are officially revealed by Sony. In July 2020, players will be getting the usual two free titles along with a bonus game as PlayStation Plus reaches its tenth anniversary.
PlayStation Plus Games: July 2020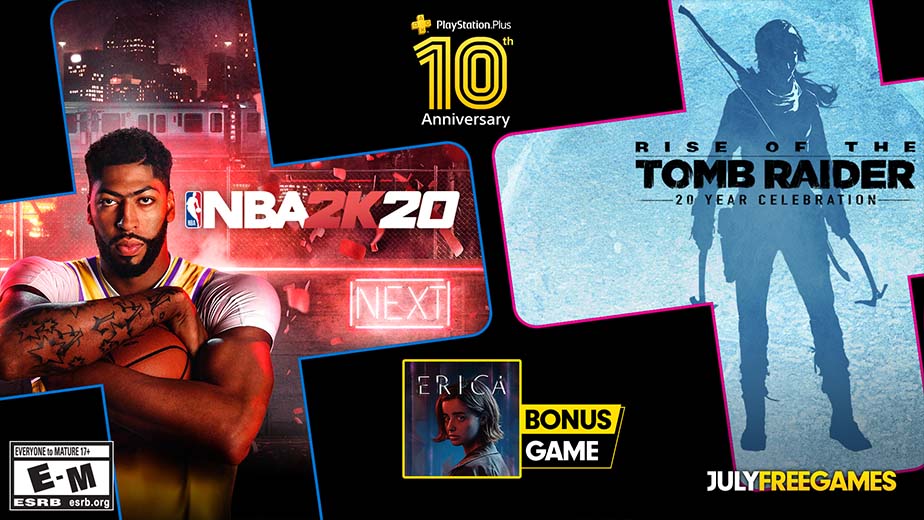 For July 2020, PlayStation Plus subscribers will get NBA 2K20, Rise of the Tomb Raider (20-Year Celebration), and Erica, as officially revealed by PlayStation earlier today.  
Apart from that, PS Plus subscribers still have time (at the time of writing) to download the June 2020 PS Plus freebies – Call of Duty: WWII, and Star Wars: Battlefront II. Both of these games are a must-have despite the rough launch of Battlefront II. The game is in really good shape with all the recent content updates it has gotten.
Jumping on the recent PS5 news, Epic Games has called the PS5 console design a "masterpiece of systems design." What are your thoughts on this? Are you satisfied with the PS Plus games for July 2020? Let us know your thoughts in the comments!
If you're looking for PlayStation news, rumors, leaks, and guides, then make sure to check out our PlayStation Archive which covers everything related to PlayStation.
PlayStation 4 was officially released on November 15, 2013, in the United States and Canada. PlayStation 5 release date is expected in the holidays of 2020.