Earlier today, Bungie released their weekly blog post focusing on some Iron Banner bugs and Solar 3.0 changes coming in the future. Following the changes, Sandbox Discipline Lead, Kevin Yanes confirmed in a Twitter thread that fan-favorite exotic chest armor for Titans from Destiny 1 — Twilight Garrison will not be returning in Destiny 2.
Replying to a thread regarding a potential Twilight Garrison's return in Destiny 2, Yanes confirmed that Titans "will never get air dodge back" and that "it's part of the warlock identity".
Titans will never get air dodge back my guy. It's part of the warlock identity. Sorry but I want to rip that bandaid off.

— Kevin Yanes (@_Tocom_) June 2, 2022
The exotic perk on Twilight Garrison is called "Tactical Air Support" which allowed Titans to evade mid-air. The exotic armor itself was originally added to the game with The Taken King expansion.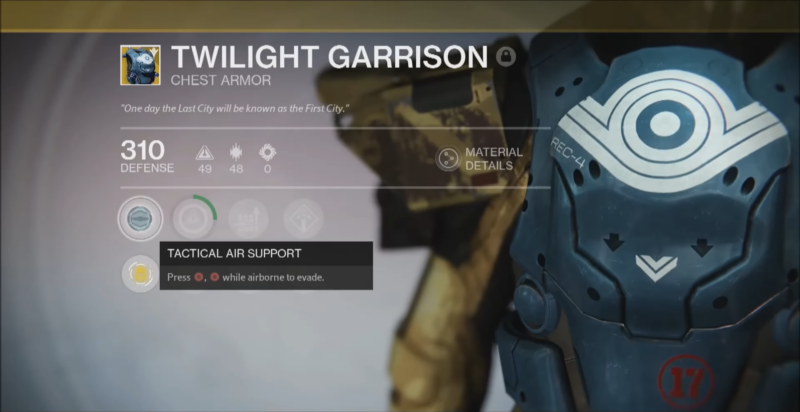 Since Twilight Garrison allowed Titans to use the air dodge ability in Destiny 1, and now that we have confirmation that Titans will not get this ability in Destiny 2, it's fair to say that this exotic chest armor will not return in Destiny 2 — unless Bungie decides to rework that exotic in some way.