Fans have been eagerly waiting for a new Splinter Cell game from Ubisoft, and it looks like the company has filed a new trademark for the game earlier this month.
The trademark was filed on December 6, 2021, according to Justia Trademarks. According to the website, this trademark was filed under classification 41, which is for entertainment services. The description reads as follows.
"Entertainment services, namely, providing an on-line computer game for others over global and local area computer networks; Entertainment services, namely, continuing television programs and interactive television programs featuring comedy, drama, live-action, and animation, broadcast over television, satellite, audio, and video media; presentation of live stage show performances, presentation of live show performances by costumed characters, and presentation of live theatrical performances; production and distribution of television shows and motion pictures…"
Ubisoft Files a New Trademark for Splinter Cell
Last month, VGC reported that Ubisoft has finally greenlit a new Splinter Cell game and that the title is in early development.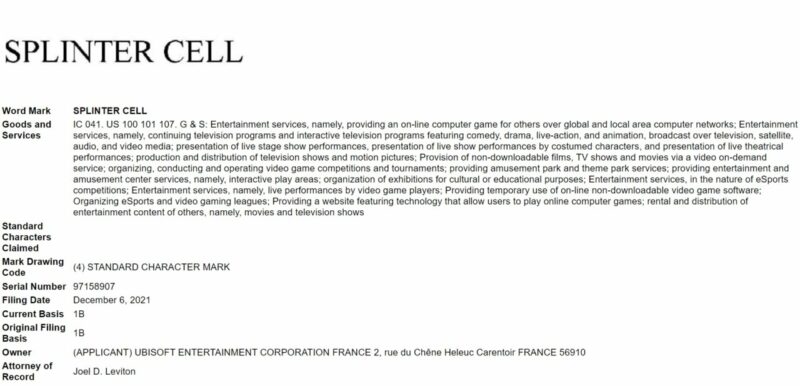 Earlier this week, a very reputable leaker and journalist, Tom Henderson, revealed some more details about this new Splinter Cell game. According to the tweet, this new game could feature open-world settings. "A more stealthy version of Assassin's Creed. Similar to how Halo Infinite has done its Open World," Henderson said.
Last year, the company filed a trademark, also for Splinter Cell, which got fans really excited for a new game. However, it turned out the trademark was for a clothing line for Splinter Cell. This new trademark seems to be for a video game or a television series.
Keep in mind that while there are reports of a new Splinter Cell game in development, this trademark could also be for the Splinter Cell animated show on Netflix or the VR game.
Ubisoft has yet to make an official announcement on this potential installment in the Splinter Cell franchise.