UPDATE 10/11/22: In a new statement provided to Eurogamer, Microsoft has confirmed that the device spotted on Phil Spencer's shelf is indeed an old prototype of Xbox Keystone.
"The device on Phil's shelf was an old prototype of Keystone. Earlier this year, we announced that we made the decision to pivot away from the current iteration of Keystone and are taking our learnings to refocus our efforts on a new approach that will allow us to deliver Xbox Cloud Gaming to more players around the world in the future. We have nothing more to share today".
---
ORIGINAL STORY 10/10/22: Earlier today, Phil Spencer, Head of Xbox, posted a new tweet showcasing his new shelf as part of the Fallout 25th anniversary. And by the looks of it, we might just have our first look at the rumored Xbox Keystone (codename) cloud streaming device from Microsoft.
In this image (shared below), we can see on the top shelf, there's an Xbox device, that looks like a Series S but is way compact in size.
Also, compared to Series S, the Xbox logo and the buttons seems to be on the front of the drive, considering that is the front side of this device. Here's a quick comparison: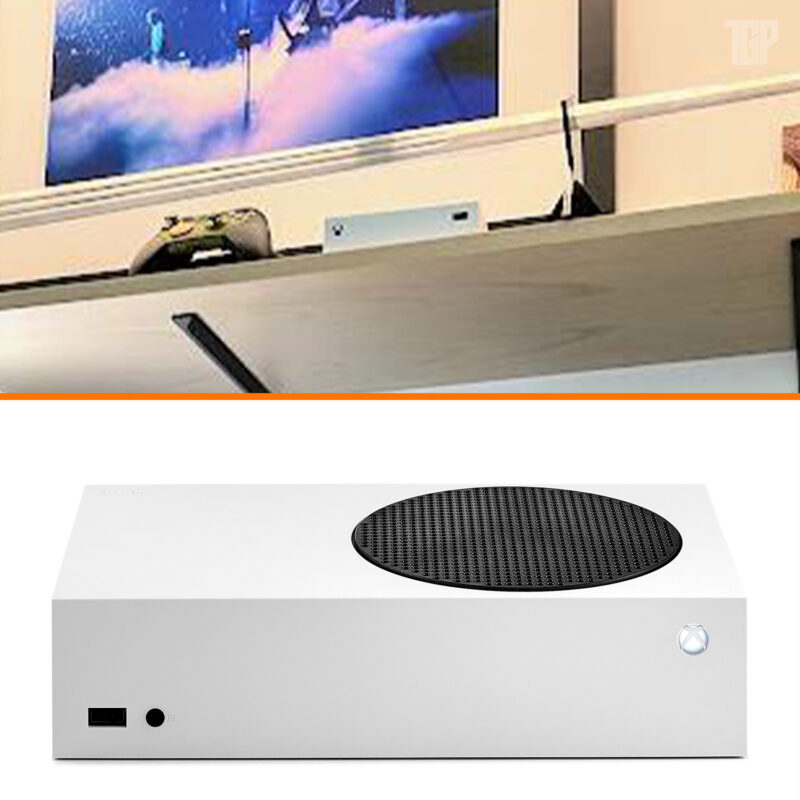 Earlier this year in March 2022, the Xbox Keystone device was spotted in an Xbox OS list. Shortly after, a report from Windows Central corroborated the original rumor stating that Keystone "pertains to a modernized HDMI streaming device that runs Xbox Game Pass and its cloud gaming service".
"As announced last year, we've been working on a game-streaming device, codename Keystone, that could be connected to any TV or monitor without the need for a console," a Microsoft spokesperson told Windows Central.
Vault Boy left the shelter and stopped by my office to celebrate the #Fallout25 Anniversary. Congratulations to the @Fallout @Bethesda teams on this major milestone for an iconic franchise. pic.twitter.com/hGoN1sAQRK

— Phil Spencer (@XboxP3) October 10, 2022
It's worth noting that Microsoft also filed some new patents, one of which hints at an external disc drive, presumably for digital-only consoles–Xbox Series S.
As of right now, there is no official confirmation on when this new Xbox device is to be revealed by Microsoft.