Recent job listings reveal Bungie's push toward AI as the studio continues to hire engineers to build "powerful AI tools" for its developers.
Bungie, the renowned video game developer responsible for titles like Destiny and Halo, and recently-announced Marathon, appears to be wholeheartedly embracing the transformative potential of Generative AI (GenAI) technology for its video game development and other initiatives.
This revelation comes as the company continues to expand its "recently established" Machine Learning team. Last week, the Destiny developer posted a new job ad for Generative AI Lead Tools Engineer on its careers website, that has since been taken down.
Related: Destiny 2 Datamine Reveals New Festival of the Lost 2023 Items
Bungie Ramping up its Generative AI Initiatives
The job description paints a vivid picture of the company's commitment to incorporating GenAI seamlessly into its game development process. The chosen candidate will play a pivotal role in steering a team of engineers responsible for integrating GenAI tools into various workflows and systems.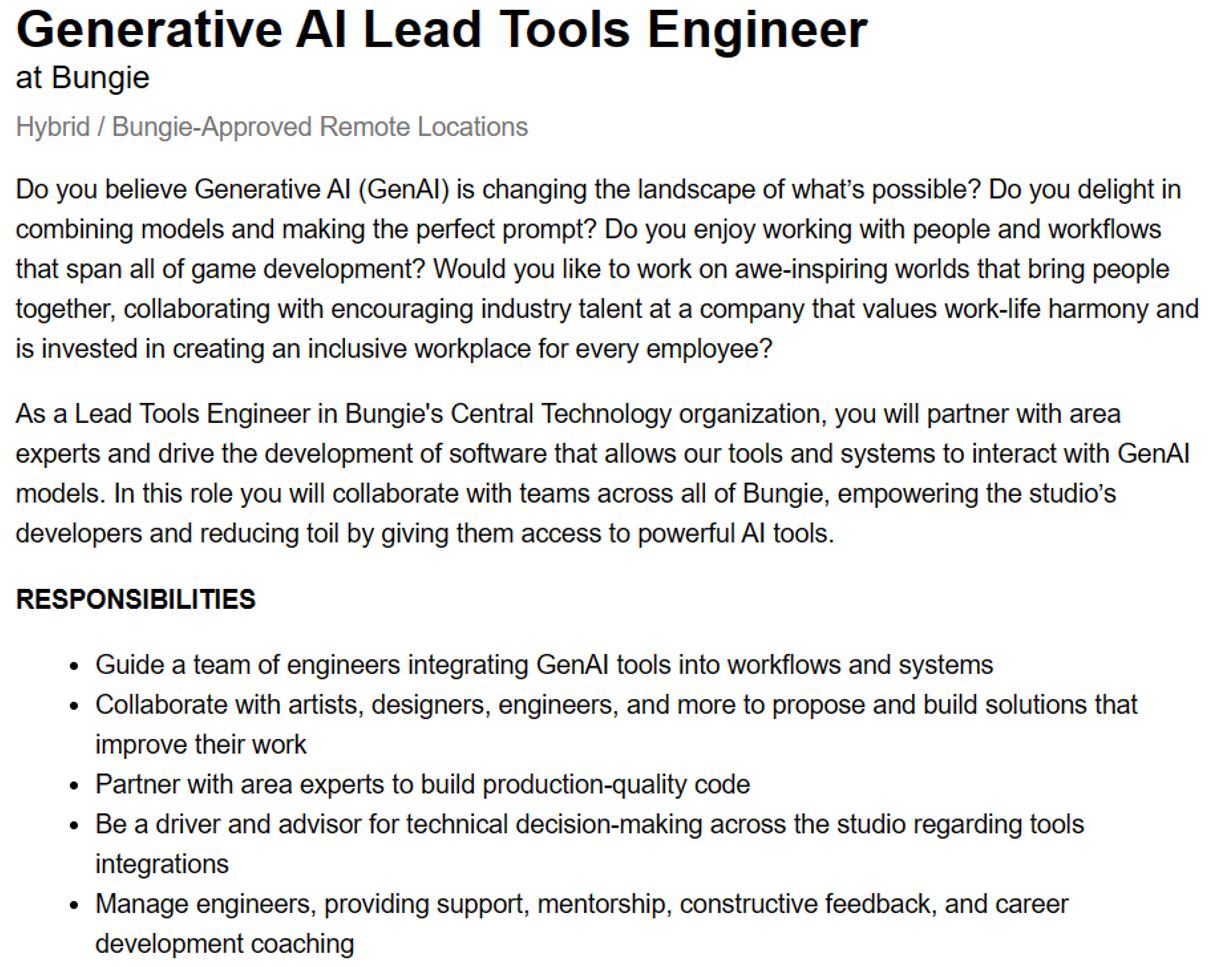 "Do you believe Generative AI (GenAI) is changing the landscape of what's possible? Do you delight in combining models and making the perfect prompt? Do you enjoy working with people and workflows that span all of game development?
"As a Lead Tools Engineer in Bungie's Central Technology organization, you will partner with area experts and drive the development of software that allows our tools and systems to interact with GenAI models. In this role you will collaborate with teams across all of Bungie, empowering the studio's developers and reducing toil by giving them access to powerful AI tools."
Under the "Responsibilities" and "Required Skills" sections, it is outlined that the candidate will "collaborate with artists, designers, engineers" to build GenAI solutions that will improve the overall workflows. The candidate must also have "experience building game development tools."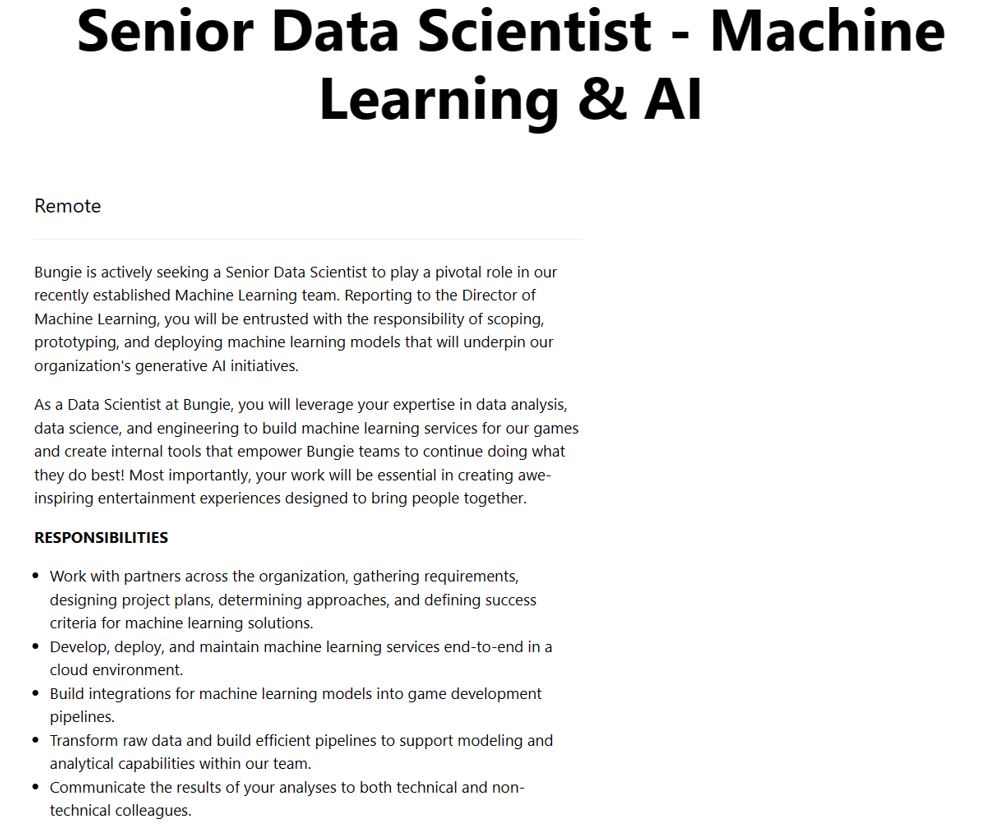 While this job ad was posted last week, it isn't the first time the company has shown interest in AI. Last year, the company made some key hires for its new Machine Learning team, with Ryan Valenza joining Bungie as the Director of Machine Learning.
It's not entirely clear what kind of AI tools Bungie is working on and which disciplines will take advantage of these tools, but the job postings suggest that they are mostly focused on analytics, research, and marketing.
It's possible that Bungie is developing tools for tasks such as scriptwriting, similar to Ubisoft's in-house AI Ghostwriter tool. In any case, it's evident that the company is highly interested in AI and is rapidly expanding its AI and Machine Learning teams.
Make sure to follow our Destiny outlet Destiny Bulletin on X, Facebook, Instagram, and Threads for the latest Destiny and Bungie news.
Destiny 2 The Final Shape launches February 27, 2024, on PlayStation, Xbox, and PC.