A fresh set of concept art was published very recently showcasing the city of Neomuna in Destiny 2's upcoming Lightfall expansion. These concepts were published by one of the developers at The Mill, a VFX production company that Bungie collabs with for its trailers.
This comes from an artist, Marco Iozzi, who published the Lightfall trailer concept on their website. It looks like one of the concepts has revealed what seems to be our first look at the new Destiny 2 Lightfall raid environment, though it's still in question.
Keep in mind that this could very well be a scrapped concept art for the raid, which might be the reason why it was made public in the first place.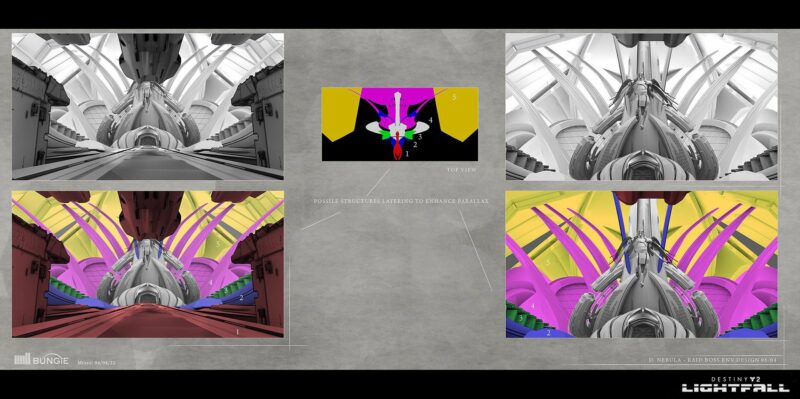 At first, the concept art which can be seen above doesn't give any alarming views of the raid, but when we take a closer look at the bottom right corner, it says, "D. Nebula – Raid Boss Env Design 08/04".
As per the date mentioned on the bottom-left of the image, it looks like this was made on April 4, 2022. While the concept doesn't reveal anything major for the raid, it does give us a look at what could be coming in Lightfall.


As for the raid boss, it seems like it was an early concept for Tormentors, a new enemy type coming in Lightfall. Here's another rough environment sketch for this scene. As always, take everything with a grain of salt.
What's interesting to note here is, all of these concepts were filed under the "Destiny Lightfall trailer" title on the artist's website, which is definitely weird since one of these clearly states the Lightfall raid environment.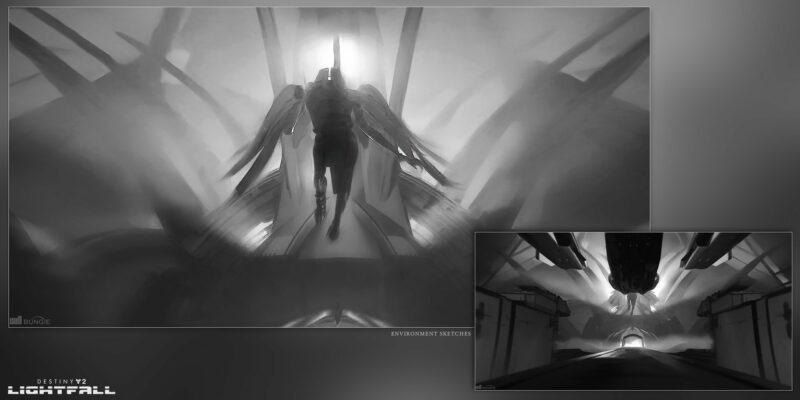 This is not the first time a Destiny 2 leak happened for Lightfall. Earlier this year, one of Bungie's artists accidentally posted a clip showcasing a new finisher in the game, with the new Strand subclass HUD active.
Furthermore, players were also able to scrap a lot of the images from the website, hours before the actual showcase in August —  which ended up leaking everywhere.
Yesterday, Google announced that it is shutting down Stadia, a cloud streaming service for video games, in January 2023. This means that the Lightfall expansion will not be released on the platform.
Read more: Bungie Impersonator 'Lord Nazo' Denies Sending Fake Destiny 2 DMCA Takedowns in Response to $7.6m Lawsuit
Bungie was actually made aware of this at the same time as the public and says it has "begun having conversations" about the next steps for players on Stadia, as per the official statement.
"We just learned about Stadia shutting down and have begun conversations about next steps for our players. We will announce and send out information regarding Destiny 2 Stadia accounts once we have a plan of action."
Destiny 2's Lightfall releases on February 28, 2022, on all platforms, except Stadia. Let us know what you think about this in the comments below.
For the latest Destiny and Bungie news, make sure to follow our Destiny news outlet, Destiny Bulletin, and check out TGP's Destiny archive.