Bungie seems to be working on a new unannounced Destiny project with the codename "Goliath", as per the job listing posted recently on the company's LinkedIn page.
The job listing is for an "Unannounced Game, Principal Producer" who will "foster an understanding of Goliath goals and vision across your teams".
"Work with the Goliath Leadership Team and other Producers to help define and deliver on the roadmap of future Destiny releases", the job description reads.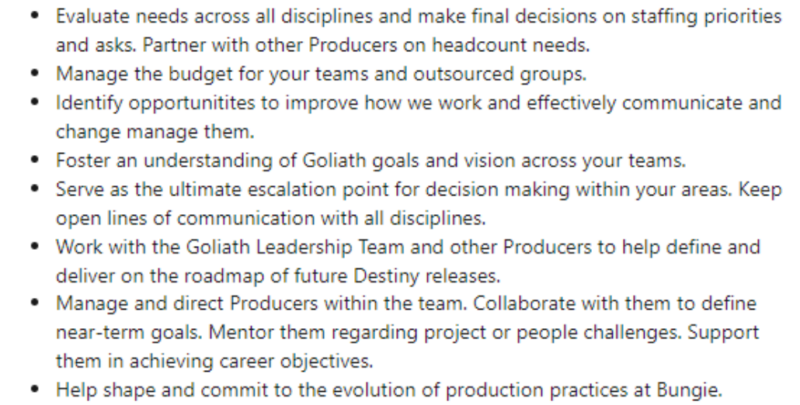 Shortly after the listing went live, Bungie updated the title from "Unannounced Game, Principal Productor" to "Principal Producer – Unannounced Project" and removed the term "Goliath" from the description.
This could be the codename for the final Destiny 2 expansion in the Light and Darkness saga — The Final Shape (or whatever comes after). Last year, Bungie posted a job listing for the "next Destiny 2 expansion" that might have revealed the codename for the upcoming expansion — Lightfall, releasing in early 2023. The Witch Queen's codename was Nova and Beyond Light was Stardust.
"Partner with the AGD to ensure Nebula ships on-time, reaches its business goals, and achieves both the product vision and quality bar."
🚨NEW: Bungie has posted a new job listing for "Project Lead – Destiny 2 Expansion" which says:

"…ensure Nebula ships on-time…"

Codename for The Witch Queen/Lightfall or the final expansion in the first saga of Destiny? What do you think? 👀https://t.co/ld9zj3bUPS pic.twitter.com/YBI9GFS6gi

— Destiny Bulletin (@DestinyBulletn) May 21, 2021
In August 2021, during The Witch Queen reveal event, the developer confirmed that Destiny 2 will come to a "dramatic conclusion" with The Final Shape expansion and that Destiny 2 will continue beyond.
Right now, the Season of the Haunted is going strong in Destiny 2, unfolding the seasonal story on a weekly basis. Bungie also released a brand-new dungeon called Duality, which expands on the seasonal narrative.
However, the Duality and Season 19 dungeon are not included in the season pass. To access these dungeons, players will need to purchase either The Witch Queen Digital Deluxe Edition or The Witch Queen Dungeon Key in-game via Eververse Store.