UPDATE: Tom Henderson, a well-known leaker, tweeted on Twitter saying that Battlefield 2042 Beta takes place on Wednesday, September 22, 2021. "The Battlefieldld 2042 Beta is September 22nd."
---
ORIGINAL STORY: Battlefield 2042 Early Access Beta date has been leaked, according to a story listing that went live early ahead of the official reveal.
This comes from MediaMarket Italy, which is MediaWorld. The website has a pre-sale going on for Battlefield 2042 and features a promotional image with the early access beta that runs from September 6, 2021, to September 11, 2021.
"Purchase this product by 03.09.2021 in PRE-SALE and you will receive access to the early BETA of the video game from 06.09 to 11.09."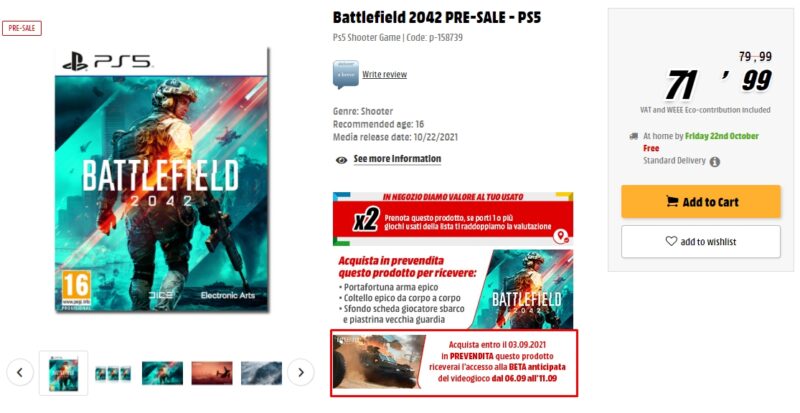 This pre-sale product page is only available for PlayStation 5, 4, Xbox Series X, and One, on the website. Yesterday, EA Help on Twitter replied to a tweet saying no date has been set for Battlefield Beta right now. "Unfortunately, no date has been set just yet but we will be sure to update you as soon as possible here."
As with every leak and rumor, take it with a grain of sale until officially confirmed.
According to one of the sources Tom Henderson, who has been the front face of every major Battlefield 2042 leak this year, Battlefield 2042 has seen some internal delays.
"From what I've heard there have been some internal delays with Battlefield 2042 and that could explain the lack of announcements on the game."
However, if the date leaked on the GameWorld website is to be believed, we should be getting an official announcement for EA very soon.