In the ever-evolving world of online video games, monetization strategies have become a hotbed of discussion among players, and Bungie's Destiny is no exception. Bungie's recent monetization practices in Destiny 2 have already stirred a hornet's nest of discontent among its dedicated fan base.
The latest controversy swirling around Destiny 2 involves the reintroduction of Season of the Worthy's Season Pass items, originally priced at a reasonable $10, into the in-game Eververse store with a jaw-dropping $89 price tag. This move by Bungie has ignited a fierce backlash within the Destiny 2 community.
Related: Destiny 2 Cheater Who Threatened to Burn Down Bungie's Office Reaches $500k Settlement With Developer
Just like other seasons in the game, Season of the Worthy — released in March 2020, offered players a Season Pass for just $10 (the price has since been increased). This pass featured 100 levels of in-game items that players could level up and unlock.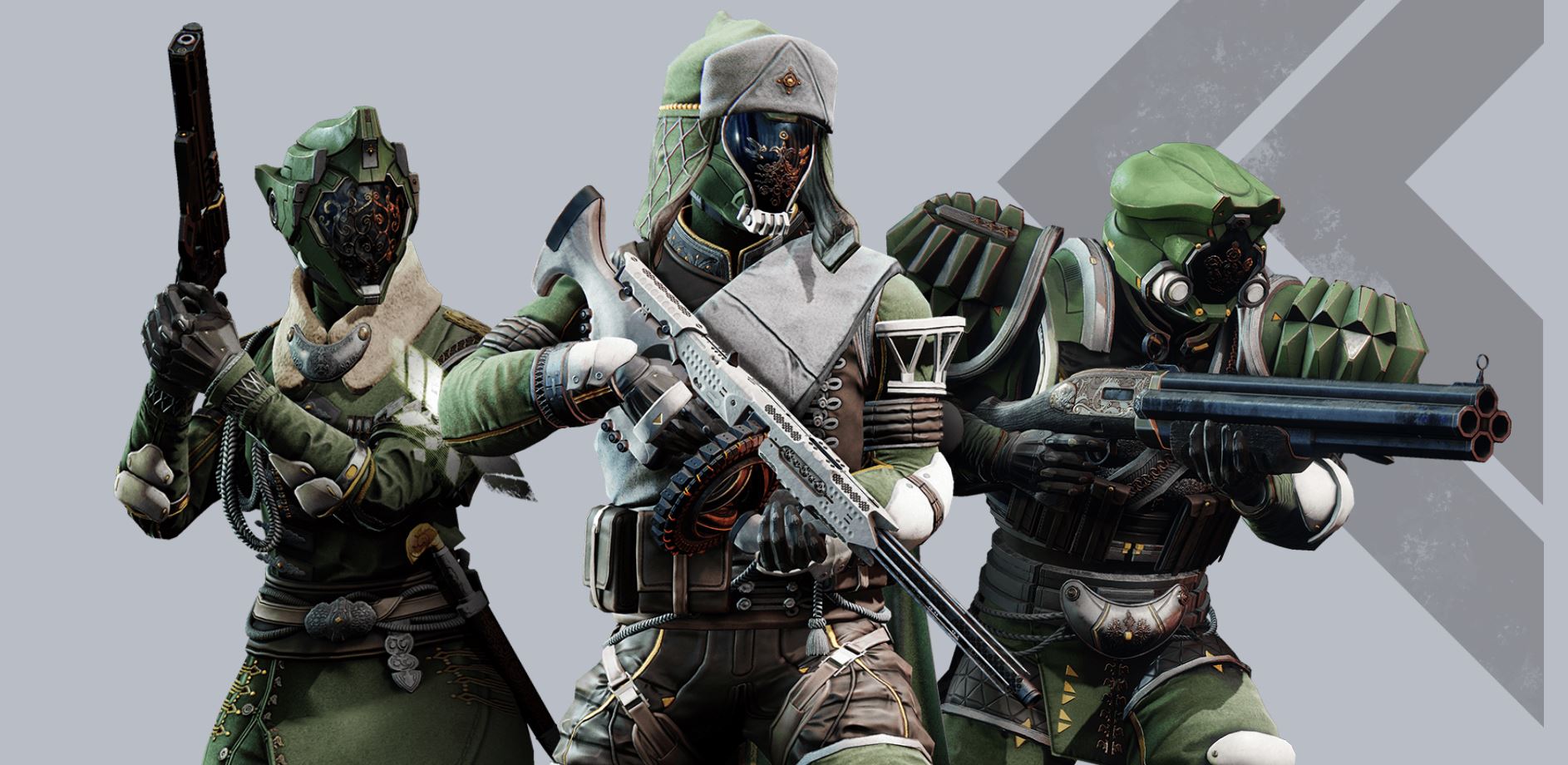 Some of the more prominent rewards in a Season Pass are the new armor ornaments for each class, exotic and legendary cosmetics, and the new seasonal exotic weapon ornament — which unlocks at Season Pass level 100.
With this week's reset in Destiny 2, fans can now purchase select Worthy cosmetics individually from the Eververse store. This allows players to choose and buy specific items instead of having to purchase a bundle for all items. Here's how much each returning item cost in the Eververse store:
Valkyrian Hunter Armor Bundle: 1,500 Silver ($15)
Valkyrian Warlock Armor Bundle: 1,500 Silver ($15)
Valkyrian Titan Armor Bundle: 1,500 Silver ($15)
Worthy Warrior Bundle: 1,900 Silver ($19)
Valkyrian Implaer Finisher: 800 Silver ($8)
None Shall Pass Emote: 1,000 Silver ($10)
The Chopper Weapon Ornament: 700 Silver ($7)
Total: $89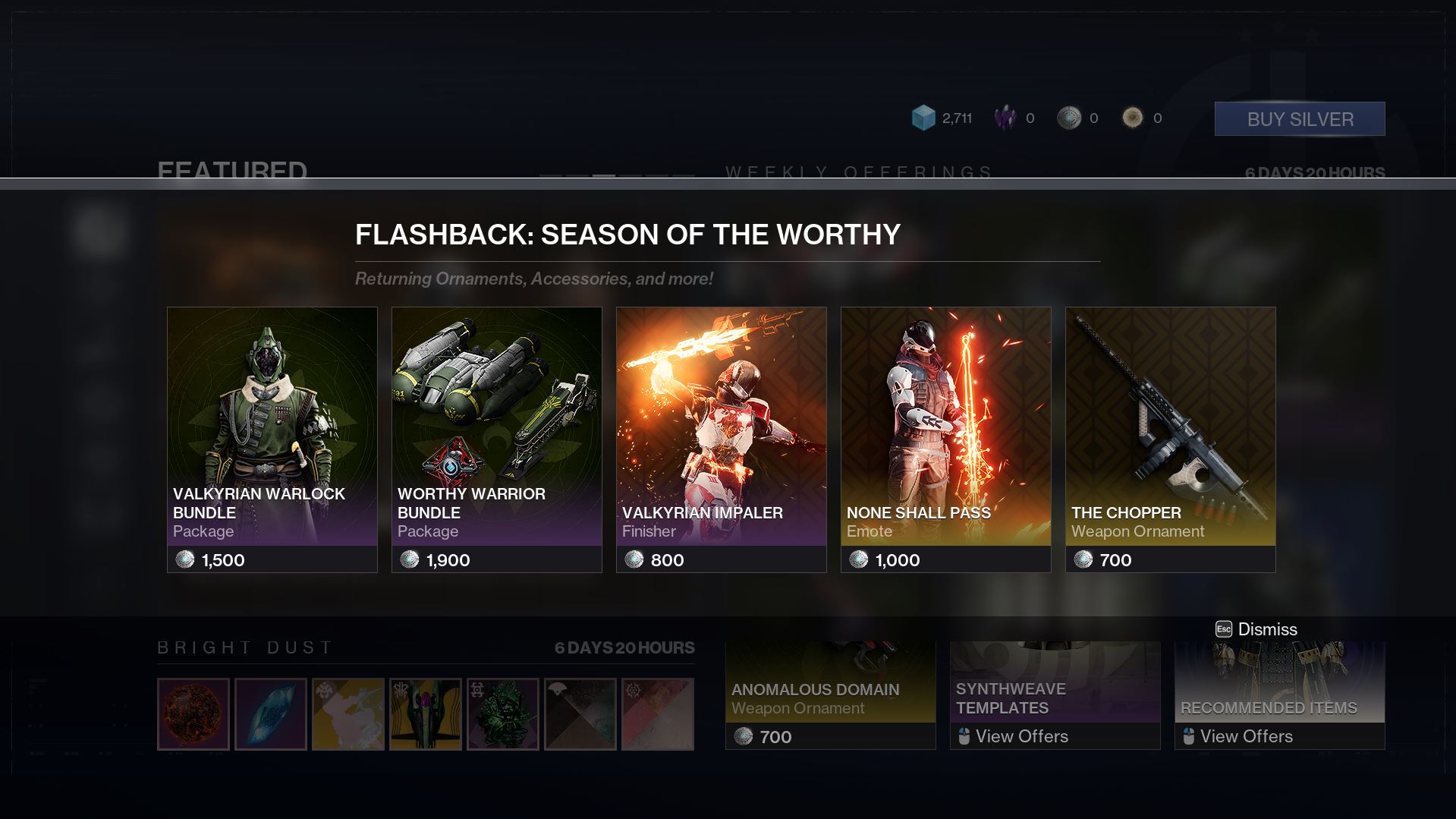 The main problem here isn't that these items are being sold for in-game paid currency, it's the actual cost for each item that concerns many fans. Shortly after this went live in-game, many fans expressed their concerns on social media platforms, with one person calling it "ridiculous."
Fans have raised a major concern that those who bought and leveled up the Season of the Worthy's Season Pass but forgot to claim the rewards will now have to repurchase these items at much higher rates, without getting any sort of discount.
"Season passes were like $10 with shaders, materials, and 3 sets of armor for each character. Now a single emote here is the same price as an entire season pass," said one fan on X. (formerly Twitter)
Other fans have requested Bungie to release these older Season Passes as a separate purchase with an ability to level them up individually in the game, something similar to what Halo Infinite does.
This would incentivize players to acquire the content they missed out on at a fair and transparent price point, allowing them to level up and earn these rewards just like those who originally purchased the Season Pass back in 2020.
Make sure to follow our Destiny outlet Destiny Bulletin on X, Facebook, Instagram, and Threads for the latest Destiny and Bungie news.
Destiny 2 The Final Shape launches February 27, 2024, on PlayStation, Xbox, and PC.