Earlier this year, several Destiny 2 content creators on YouTube were hit by a series of DMCA takedowns on their Destiny 2 videos, which at the time seemed to be from Bungie's IP protection partner, CSC Global.
Shortly after, Bungie released an official statement on Twitter saying that these actions were "not being taken at the request of Bungie or our partners" and that Bungie itself was the target of these takedowns on its official YouTube channel.
After further investigation, Bungie found out that these takedowns were sent by an individual who also owned a Destiny 2 YouTube channel for uploading soundtracks. Lord Nazo was later sued for $7.6 million for issuing fraudulent DMCA takedowns on Bungie's Destiny 2 content on YouTube.
In the filed complaint, Bungie alleges that Lord Nazo, whose real name is Nicholas Minor, sent a total of ninety-six fake DMCA takedowns on behalf of Bungie, threatening Bungie's CSC Global, and even replying to the official statement.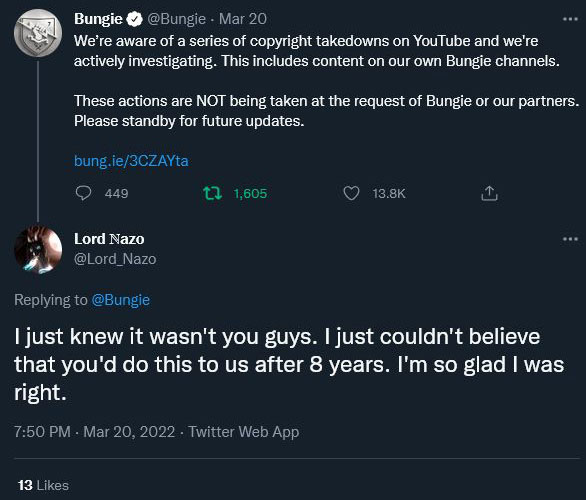 Lord Nazo Denies Allegations of Issuing Fake Destiny 2 DMCA Takedowns
In a response filed yesterday (pdf here), Lord Nazo denies the allegations of sending fake DMCA claims, even though Bungie's complaint provided proof with Gmail addresses registered by Lord Nazo, which were then used to issue these takedowns.
The first paragraph of Bungie's complaint alleges the case of "Nick Minor's malicious campaign to serve fraudulent takedown notices to some of the most prominent and passionate members of that fanbase, purportedly on Bungie's behalf". To which, Lord Nazo's lawyers replied, "defendant denies the allegations of this paragraph concerning his conduct and intent".
"On March 17, 2022, Minor sent out 38 Fraudulent Takedown Notices: 36
from the "Jeremy Wiland" account, 1 from [email protected] in which he
identified himself as "Damian Reynolds", and a duplicate of that "Jacob Averz" takedown from the "Damian Reynolds" account"
Apart from that, Bungie is also suing a Destiny 2 streamer who constantly evaded in-game bans, threatened Bungie to "burn down" its office, and harassed its staff.