CDPR just live-streamed the first episode of their Night City Wire series for Cyberpunk 2077 where we got to see a brand-new trailer – The Gig, fresh BD gameplay, and a really cool Cyberpunk anime announcement. Shortly after the show, content creators and media got to talk about their hands-on impression of the game. We already know that there is a mountain of features for character customization in Cyberpunk 2077, and it looks like players will be able to customize their character's pubic hairs… along with the genitals of course.
Cyberpunk 2077 Features 5 Types of Pubic Hairs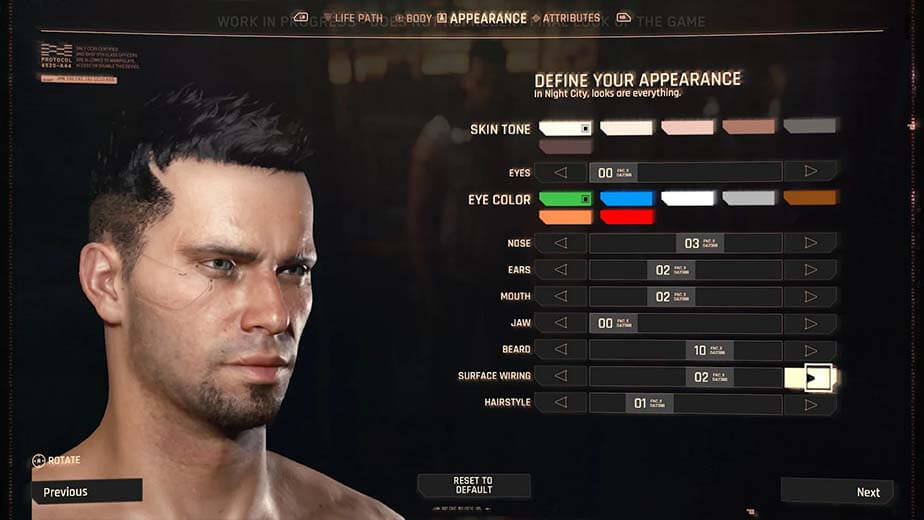 According to Kotaku Australia, there are a total of five types of pubic hairs that players can choose from which is truly insane. Furthermore, there are a total of "6 skin types, 35 hairstyles, 17 eyes, 17 mouths, 17 jaws, 17 ears, 8 eyebrows, 9 types of scars, 6 types of tattoos, 11 piercings, 5 types of teeth, 8 bits of eye makeup, 5 bits of lip makeup plus off, 3 blemishes, 3 types of nipples, 5 types of body tatts, 2 types of body scars, 2 dick types, 1 vagina option, dick size options, and 5 types of pubic hairs."
Apart from that, Cyberpunk 2077 will also get a free upgrade for next-gen consoles – PS5 and Xbox Series X, as officially revealed during today's live stream. Have you watched the first episode of Night City Wire? What are your thoughts on customizing features? Are you excited about this massive open-world RPG from CDPR? Let us know in the comments!
Cyberpunk 2077 will be releasing on November 19, 2020, on PlayStation 4, Xbox One, PC, and Google Stadia.