Earlier this month, Bungie launched an updated version of its Bungie Store on July 20, 2021. The store now has a brand-new look with some new features as well, including Bungie Rewards integration with the Destiny 2 account. This means that Destiny 2 players won't be able to share Bungie Rewards codes with anyone else if they unlock a reward in-game. Shortly after the relaunch, Bungie announced on Twitter that it is giving away a brand-new exclusive emblem called "New Blue" in Destiny 2. Here's how you can unlock this limited-time emblem.
How to unlock New Blue Emblem in Destiny 2
This is a limited-time offer for the existing Bungie Store users as mentioned in the original tweet. Players have until August 13, 2021, 11:59 PM PDT to reset their Bungie Store account password in order to be eligible for this emblem. Bungie will be emailing the first batch of emblem codes on August 6, 2021, via email. The final batch will be sent out on August 20, 2021.
Recently, Bungie announced that it is extending the time period for the Bungie Store password reset from July 31 to August 13, 2021. So, players now have a bit more time to reset their Bungie Store password to get this free emblem.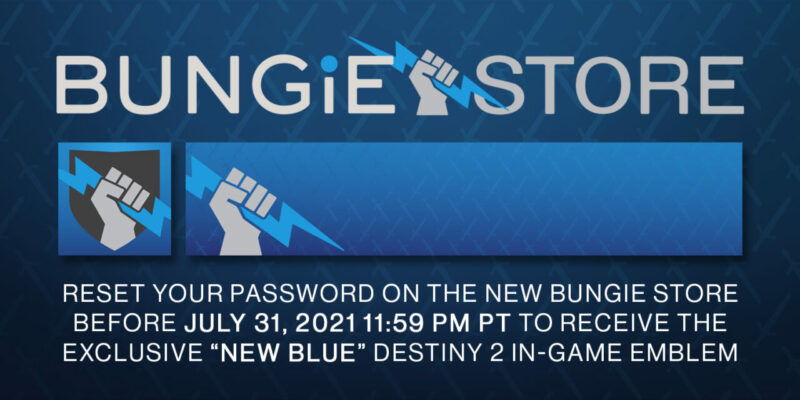 These steps are pretty straightforward. To unlock the New Blue emblem, existing Bungie Store users simply need to reset their Bungie Store account password. Bungie has already sent out an email to reset your password to get this emblem – so check your email. As mentioned, players will have until August 13, 2021, to reset their account's password.
"As a thank you for resetting your password by July 31, 2021, 11:59 PM PDT, we will send you a code for an exclusive Destiny 2 "New Blue" in-game emblem. Emblem codes will be distributed by August 6, 2021, via email."
How to Redeem Destiny 2 Emblem Codes
If you have a Destiny 2 emblem code that you want to redeem, head over to this page on Bungie's website. Sign in to your Bungie account and insert the code where it says, "Enter your code" and voilà! You now have a new emblem in Destiny 2. Log in to the game and go to your Collections and then Flair. This is where you'll find your newly redeemed emblem.
That's it for this guide. If you've already reset your account password on Bungie Store, sit tight and wait for the email from Bungie on August 6, 2021, for this new emblem.