Bungie has been using the seasonal model for a while now in Destiny 2, and it is working to some extent. While there are some concerns about how every season has that repetitive feeling to it in terms of leveling up the seasonal vendors, the weekly story bits are clearly working, keeping the players engaged week after week.
With every season, Bungie also introduces new season passes with brand-new rewards to unlock. There are two tiers of season passes — one for free-to-play players and one for those who have purchased the season. Each season has a total of 100 levels in it, with different rewards on every level for paid players.
If you've been grinding to get to that level 100 season pass every season in Destiny 2 but have too many items in your inventory to claim the rewards, there is a way to claim those rewards even after the season has ended.
Update: It seems any Season Pass rewards before Season of the Risen are not obtainable via the API, according to the creator of the Season Pass Pass extension.
How to Claim Previous Season Pass Rewards in Destiny 2
In this guide, we'll deep dive into how you can claim previous season pass rewards in Destiny 2, which is not that complicated. Keep in mind that you'll only be able to claim rewards that you've unlocked in the past seasons.
Step 1: Download the Extension
First, you need to download (Firefox and Chrome)and install a web browser extension called "Season Pass Pass" made by Josh Hunt. This extension will allow you to claim the rewards directly from Bungie's website.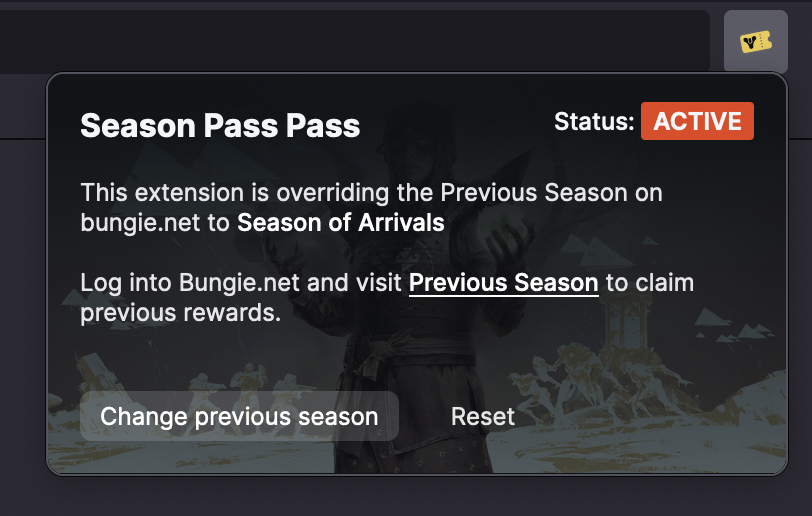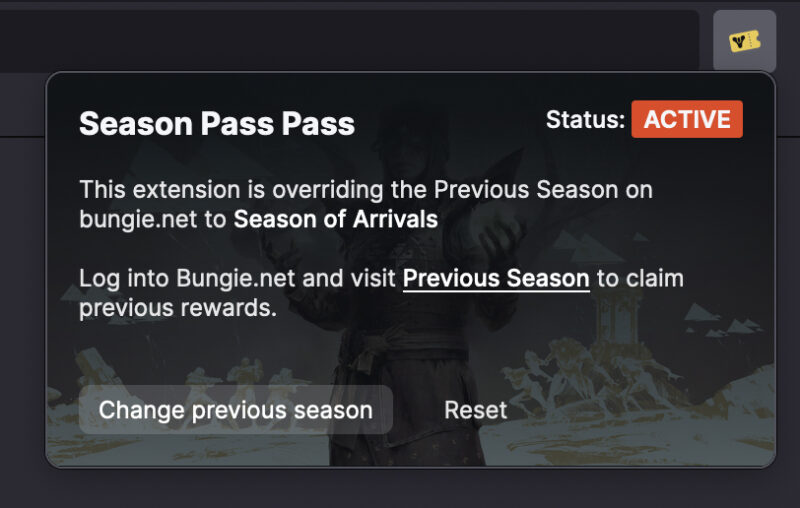 Step 2: Link Bungie.net Profile
After installing the extension, make sure you are logged in to your Bungie.net profile, that's also linked to a Destiny 2 account.
After logging in to your account, click the extension (a yellow ticket with a Destiny logo on it), and select any previous season by clicking on the drop-down menu button "Change previous season".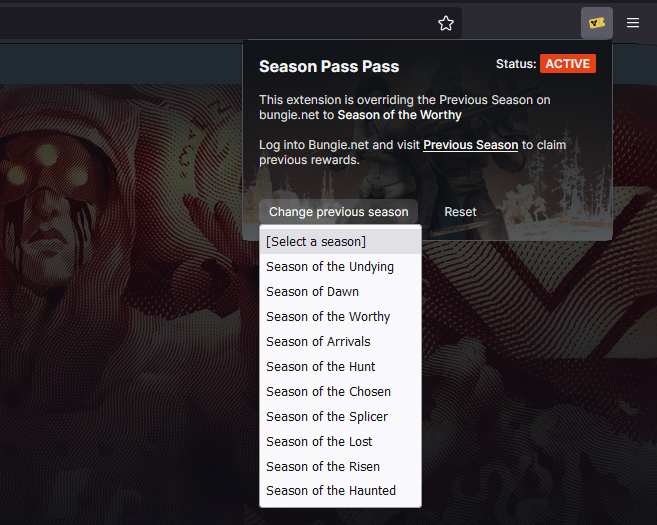 After that, you'll need to visit this page on Bungie's website. This will take you to the Previous Seasons page where you'll be able to claim all the rewards.
Step 3: Claim Rewards
And voila! You can now claim your selected Destiny 2 season's season pass rewards. Simply click on the available rewards and claim them. If you wish to change the season, click on the extension and simply change to another season by clicking on the "Change previous season" drop-down menu and refreshing the page.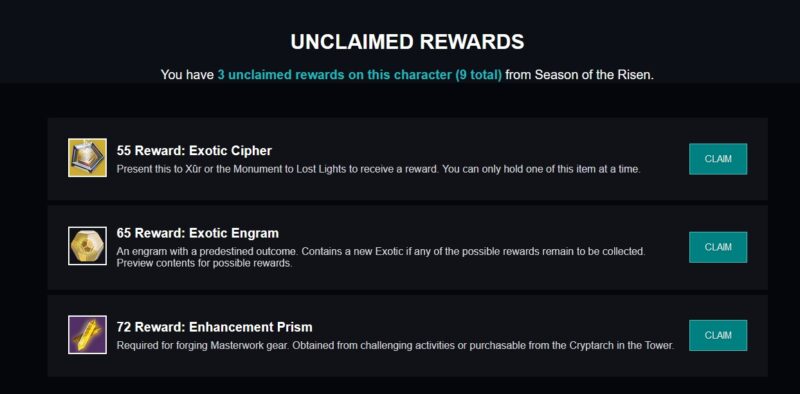 If you scroll down on the page, it will also show you a list of rewards that are yet to be claimed on that season pass. You can see an example image above.
Alternate Method
There is another way of claiming previous season pass rewards in Destiny 2. In short, you will need to download an old version of the Destiny 2 Companion app APK from websites like APKPure and install it on your Android phone or a PC using BlueStacks.
It's clearly a lot of work compared to the web extension above and a bit risky too since you're downloading an app from a website.
For the latest Destiny and Bungie news, make sure to follow our Destiny news outlet, Destiny Bulletin, and check out TGP's Destiny archive.
Next: