Ruinous Effigy is finally live in Destiny 2. It's a really fun exotic trace rifle with a unique perk that turns your enemies in a Transmutation Spheres. If you don' know how you can unlock Ruinous Effigy, make sure to check out our complete guide here. Today, we are going to discuss how you can unlock the exotic catalyst for Ruinous Effigy.
How to Unlock Ruinous Effigy Exotic Catalyst?
Unlocking the exotic catalyst for this weapon is very simple. All you have to do is:
Kill enemies with Ruinous Effigy
Pick up the Transmutation Sphere and defeat enemies with it using the light, heavy, and drain attack
This should drop the exotic catalyst for Ruinous Effigy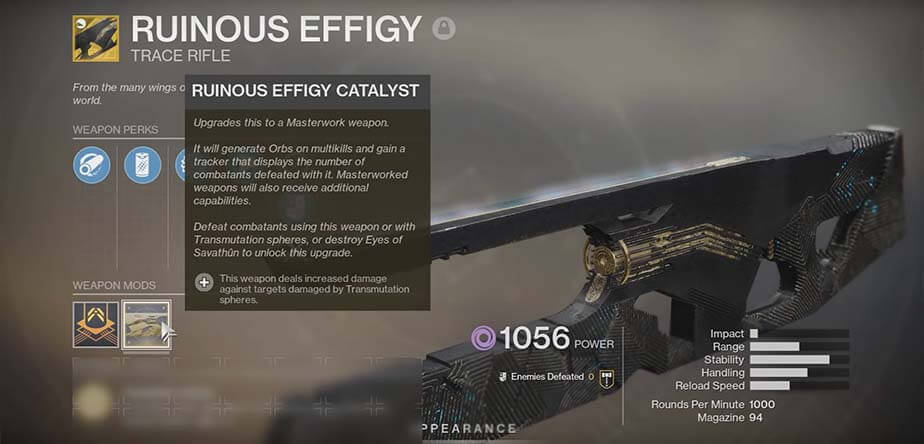 How to Complete Ruinous Effigy Exotic Catalyst?
Now that you have the exotic catalyst, here's how to actually complete the objective for it. There are two ways you can complete Ruinous Effigy exotic catalyst:
By defeating 5000 enemy combatants with the weapon and Transmutation Spheres
Or by destroying all 50 Savathun's Eyes scattered across the planets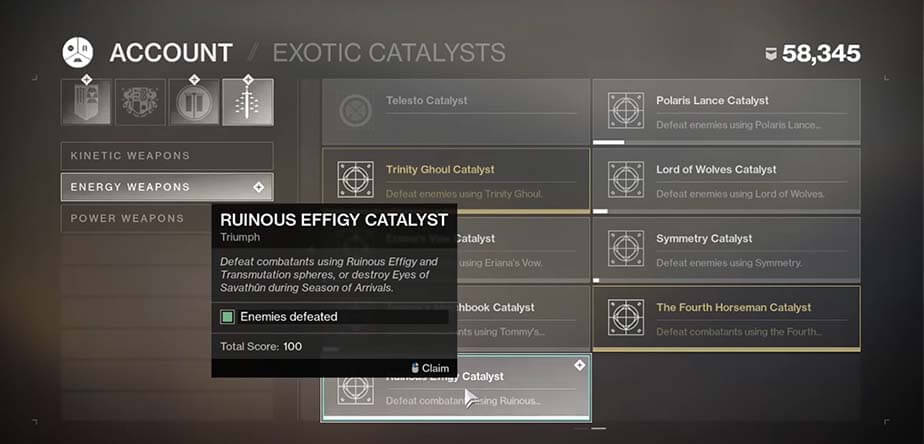 We have our complete guide on all the locations for these Savathun's Eyes. Each eye grants you the progress of 3% and there's also a triumph in Moments of Triumph 2020 seal for this.
Best way to Get 5000 Kills?
If you're going down the route of defeating enemies for this catalyst completion, the best way to do it is to get into the Whisper mission and drop down in the dark area below the green room where a bunch of taken thralls keeps spawning. This is the best way to progress the catalyst and will require you to do the mission around two times.
If you've unlocked the exotic trace rifle itself, go to Triumphs, then Account, Exotic Catalyst, and then Energy Weapons. There, you should see the exotic catalyst for this weapon and how you can unlock it.
If you're looking for Destiny news, rumors, leaks, and guides, then make sure you check out our Destiny Archive which covers everything related to Bungie's Destiny.
Destiny was released on September 9, 2014, on PlayStation 4, PlayStation 3, Xbox One, and Xbox 360. Destiny 2 was released on September 4, 2017, on PlayStation 4, Xbox One, and PC. It was released later in 2019 on Google Stadia.