Guardian Games event is live and with that Bungie has introduced Destiny 2's first Strand legendary Scout Rifle in the game called Taraxippos. It's a 200 Rounds Per Minute (RPM) scout rifle that fits in the Kinetic slot.
In this guide, we'll have everything from how you can unlock Taraxippos in Destiny 2 to what are the best PvP and PvE god rolls for this weapon. First, let's see how you can unlock the weapon in the game.
How to Unlock Taraxippos in Destiny 2
Similar to the previous Guardian Games weapons in Destiny 2, players will be able to unlock Taraxippos from the introductory quest line from Guardian Games 2023. To get your first Taraxippos, you will need to complete the Best In Class quest that's available during the Guardian Games event. Follow our complete step-by-step guide below.
Step 1: Visit Eva Levante in the Tower and pick up the Best In Class quest.
Step 2: Purchase any Contender or Platinum Card from Eva.
Step 3: Complete a Supremacy match or a Guardian Games playlist activity to earn Medallions.
Step 4: Speak with Eva in the Tower again.
Step 5: Deposit the Medallion at the Tower Podium.
Step 6: After depositing your first Medallion, claim the completed event challenge from the Quests tab.
Step 7: Speak with Commander Zavala and then Lord Shaxx.
Step 8: Return to Eva Levante and you'll be able to claim your first Taraxippos.
In order to farm Taraxippos during Guardian Games, you need to complete Contender or Platinum Cards that you can purchase from Eva at the Tower.
Taraxippos PvE God Roll
Taraxippos is a Lightweight Frame Scout Rifle that fires at 200 rounds per minute. As Bungie said in its blog post, this weapon is packed with some really interesting perks in its third and fourth columns from Zen Moment and Fourth Times The Charm to Explosive Payload and Hatchling (which is perfect for Strand builds). Here are our recommended PvE god rolls for Taraxippos in Destiny 2.
Barrel: Polygonal Rifling – It gives +10 Stability
Magazine: Tactical Mag – It gives +1 Magazine, +10 Reload Speed, and +5 Stability
Trait 1: Fourth Time's The Charm – Rapidly landing precision hits will return two rounds to the magazine
Trait 2: Hatchling – Precision final blows or rapidly defeating targets with a non-precision weapon spawns a Threadling at the target's location.
Origin Trait: Classy Contender – Final blows with this weapon grant class ability energy
Stability Masterwork: +10 Stability
Mod: Minor Spec – Deals extra damage against rank-and-file enemies
Taraxippos PvP God Roll
For PvP, since it's a scout rifle, you're probably aiming at mid-to-long-range plays with this weapon. So, for that, we would recommend something that has adequate range but also has good stability and flinch control for incoming damage. Here's our recommended PvP god roll for Taraxippos in Destiny 2.
Barrel: Polygonal Rifling – It gives +10 Stability
Magazine: Accurized Rounds – It gives +10 Range
Trait 1: Zen Moment – Causing damage with this weapon reduces recoil and flinch over time
Trait 2: Explosive Payload – Projectiles create an area-of-effect detonation on impact
Origin Trait: Omolon Fluid Dynamics – This weapon has increased reload speed and stability for the top half of the magazine
Range Masterwork: +10 Range
Mod: Target Adjuster – Better target acquisition (+5 Aim Assistance)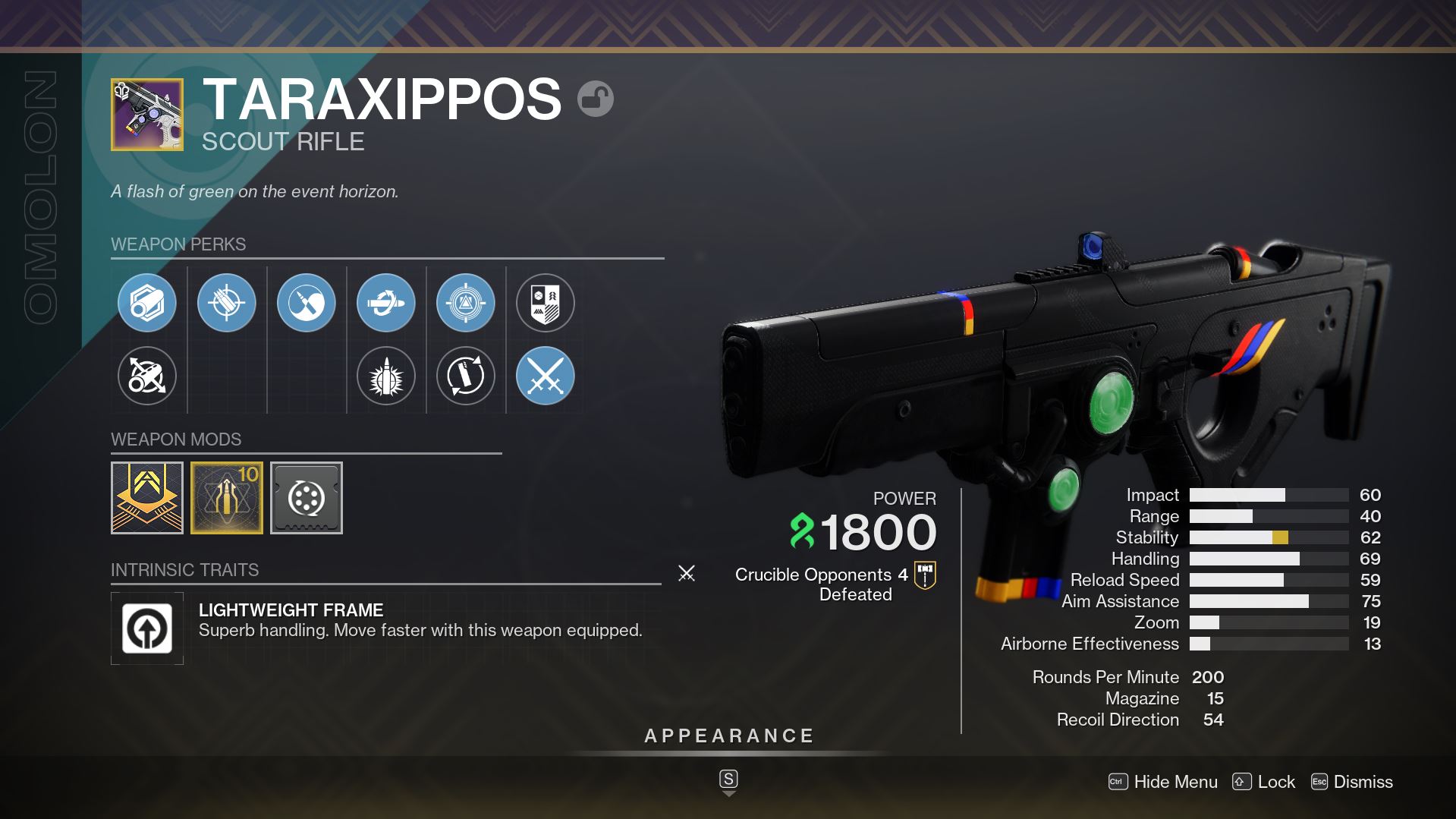 Make sure to follow our Destiny outlet Destiny Bulletin on Twitter, Facebook, and Instagram for all things Destiny 2 and Bungie.
Destiny 2 Lightfall is now available on PlayStation, Xbox, and PC.
Next: