Another month, another free loot drop for Twitch Prime members in Destiny 2. Last month in July 2021, we've got the Merciless exotic fusion rifle, Break the Dawn (Merciless exotic ornament), Symmetry Flight Exotic Ship, and Soul Velocity Legendary Sparrow. Below, you can find the Twitch Prime rewards and loot drop for August 2021 in Destiny 2.
What are the Destiny 2 Twitch Prime Rewards For August 2021?
For August 2021, players in Destiny 2 who are subscribed to Prime, will get a total of three exotic cosmetics (emote, ghost shell, and sparrow), and one legendary sparrow. You can find these rewards listed below:
Fireworks Exotic Emote
Fast Lane Shell Exotic Ghost
Vanishing Point Exotic Sparrow
Vor Pyl VIII Legendary Ship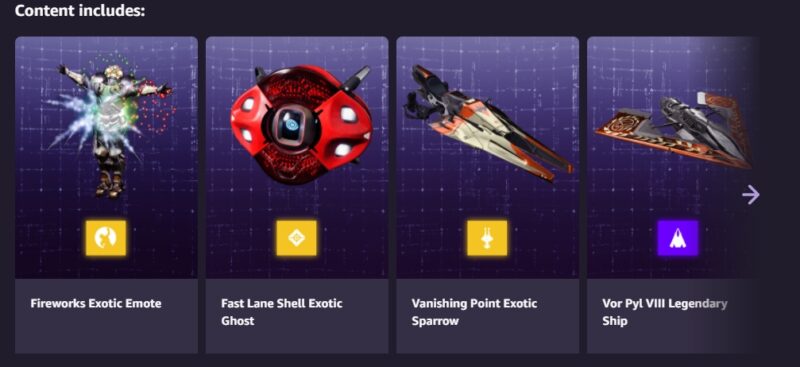 These rewards will run from Wednesday, August 11, 2021, until Wednesday, September 8, 2021. So, you have one month to claim these rewards in Destiny 2.
After you've claimed your Twitch Prime rewards from the website and linked your Bungie.net account, make sure to visit Amanda Holiday in the Tower Hanger in Destiny 2 to claim rewards in-game as well.