UPDATE: Bungie has updated this job listing changing the title from "Linear Media" to "Transmedia" along with some of the content. The listing now includes extending the franchise into "new categories including Animation, TV, films, books, comics, and audio formats."
Original Story: Bungie has published a new job listing suggesting that an animated project/show for its flagship title — Destiny 2 could be in development.
The job listing in question is for Destiny Linear Media which states "produce projects that extend the franchise into new categories including TV, films, books, comics."
"As a senior producer, you will work with creative leadership and external partners to ensure linear media projects are hitting milestones, staying on budget, and representing Destiny at the highest-quality bar."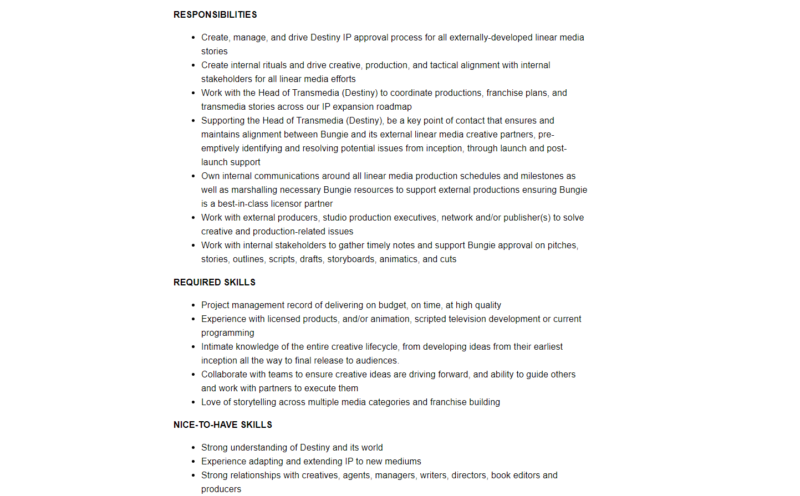 Under the Required Skills section, it says that the candidate must have "experience with licensed products, and/or animation, scripted television development or current programming."
Earlier this year, former Riot Games' League of Legends animated shorts director, Derick Tsai joined Bungie as Head of Destiny's transmedia projects.
Derick Tsai, who has previously worked as a Director at Riot Games on League of Legends Animated Short Films, is now the Head of Development for Destiny Universe Transmedia. 👀

Bungie is really going all-in with Destiny's TV projects | #Destiny2 pic.twitter.com/BmkzdTCt4f

— Destiny Bulletin (@DestinyBulletn) February 3, 2022
Following Sony's Bungie acquisition, Sony CFO Hiroki Totoki explained how Bungie can "leverage [Sony's] platform" to expand its current and future IPs into Film/TV.
"Bungie want to nurture the IP they have in a multi-dimensional manner, and that's their hope," Totoki explained during an earnings call Q&A. "For that, we believe we can help. We have [Sony] Pictures and [Sony] Music and Bungie can leverage our platform so that their IP can flourish and grow big."
While Bungie has been hiring for its new video game IPs and media projects, it might be a while until we hear or see anything about animated and/or live-action projects for Destiny 2.
On the video game side, Destiny 2's latest expansion — The Witch Queen has received very positive reviews from major media outlets, some even calling it the best Destiny expansion so far.