Electronic Arts, publishers of Battlefield, Apex Legends, Titanfall, franchise, has filed a new trademark "Cliffhanger Games" earlier this month on August 20, 2021.
According to WIPO Trademark Portal, the new "Cliffhanger Games" trademark is filed under the classification, 9, 41, 42. Below are the description of these classifications:
9: Downloadable computer game software; Recorded computer game software; Downloadable computer game software via a global computer network and wireless devices; Downloadable video game software; Recorded video game software.
41: Entertainment services, namely, providing an online computer game; Provision of information relating to electronic computer games provided via the Internet; Production of video and computer game software.
42: Design and development of interactive, computer, video and electronic game software; Video game development services; video game programming development services; Designing and developing computer game software and video game software for use with computers, video game program systems and computer networks; Computer programming of video and computer game.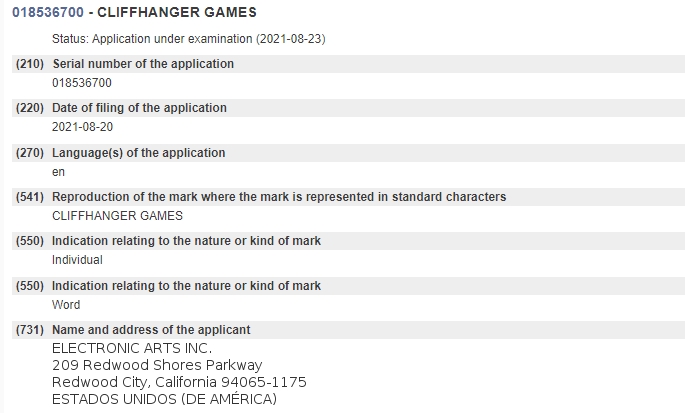 Last month, EA renamed its DICE LA studio to Ripple Effect which is currently working on the upcoming Battlefield 2042 along with its new "yet-to-be announced project"
Some of EA's upcoming games include FIFA 22, Battlefield 2041, GRID Legends, and Dead Space.