Update: GTA V Premium Edition is now available via Epic Games Store on PC from now until May 21, 2020. To download, log in to your Epic Games account in Epic Games Launcher and head to Store to get the free copy.
Original Story: Yesterday, there was a rumor posted by GamePressuer, a polish website with a good track record for leaks and rumors, suggested that GTA V is coming to Epic Games Store as the next free game on PC. If you don't know, Epic Games Store gives out free games every week to everyone, but this time, they are really trying to increase the users on their launcher. It was a rumor until today, when a tweet was found from the Epic Games (deleted shortly after, obviously), featuring the announcement for GTA V as the next free game on Epic Games Store.
GTA V Is Free On Epic Games Store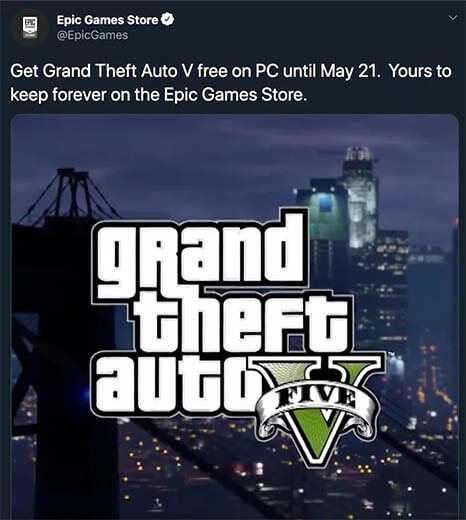 As you can see in the above image, the tweet clearly says that Grand Theft Auto V is indeed coming to Epic Games Store for a limited time to download from May 14 to May 21, 2020. If you download the game during this period of time, it will be yours forever. "Get Grand Theft Auto V free on PC until May 21. Yours to keep forever on the Epic Games Store," – Epic Games Store's Twitter.
Read Also: Grand Theft Auto VI Is 'Halfway Done,' Rumor Suggests
Now, you may be asking this question, why are they giving away a game that still sells insanely good? Well, one, Epic Games Store is trying to beat Steam to become the number one platform for video games on PC. Second, Take-Two Interactive who owns Rockstar Games (the developer behind GTA V), is one of the top supports of Epic Games Store. Or, this might be something related to GTA VI? For that, we'll have to wait a little bit longer.
Have you played GTA V before? Well, if you haven't this is indeed your chance to get the game for free.
GTA V is now available on PlayStation 4, Xbox One, PlayStation 3, Xbox 360, and PC.