Bungie has acknowledged the requests for an in-game news system in Destiny 2 and is actively exploring alternative communication methods.
In the ever-evolving world of live service video games, communication between developers and players plays a crucial role in fostering a strong and engaged community. In recent years, Destiny 2 players have been asking for an in-game news and updates system that would allow them to stay updated directly within the game.
The absence of such a feature has forced players to seek updates through external channels, primarily Twitter and Bungie's official website (forums). Bungie has several channels where it communicates with the Destiny 2 community.
Related: Destiny 2 Finally Addresses Annoying Gambit Bug with New Armor Mod
One of the primary sources of communication for Bungie is the BungieHelp or Destiny 2 Team Twitter accounts. The developer uses these accounts to share important updates about the game, such as server maintenance, disabled items, and bug reports.
However, there's been a recent announcement from Twitter stating that non-logged-in users will no longer be able to view tweets on the platform, requiring them to create an account. This poses a significant challenge for Bungie since it heavily relies on Twitter to communicate with the Destiny 2 community.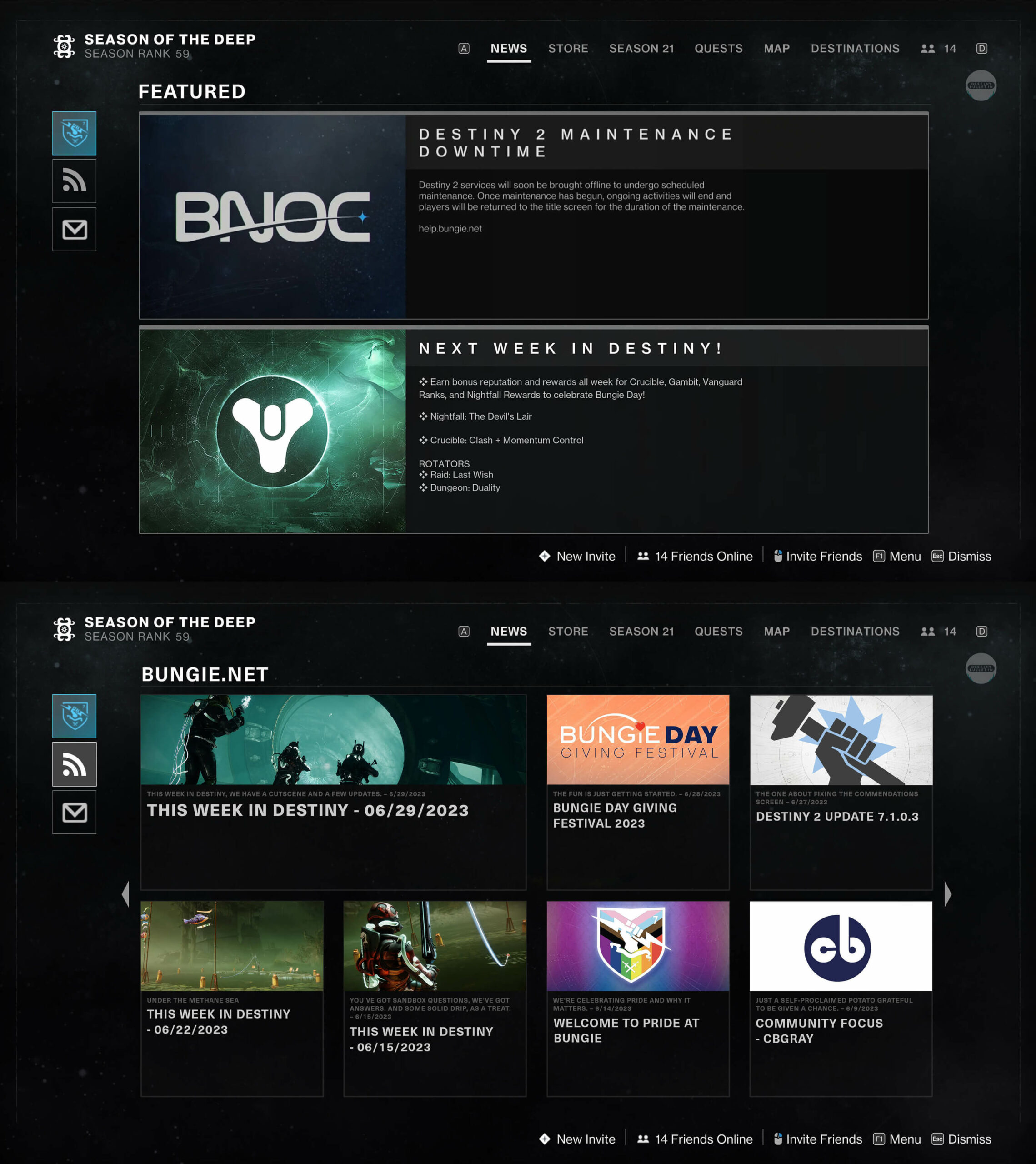 Following the requests for an in-game news and updates system from the fans, Bungie has acknowledged the demand and expressed its commitment to exploring solutions to keep players informed.
In a Reddit post, Bungie explained that creating an in-game news system is more complicated than it may appear. "What you're asking for isn't as simple as you think, especially due to character limitation and multi-lingual support," Bungie replied. "But we are investigating alternate methods to communicate to everyone."
"Yeah, it's basically the banner system we use to send out messages like Next Week in Destiny. A mailbox system is one of many ideas we're exploring for the future."
In a response to another thread asking for a "Recent News" tab in-game, Bungie said "This is something we're exploring. No confirmed plans or an ETA right now."
Related: Bungie's Tiger Engine Seemingly Set to Receive Major Upgrades For Destiny, Marathon, and Future Games
Currently, Bungie relies on a banner system to deliver news and updates within the game. However, these banner popups are limited to specific types of announcements. They mainly cover important information related to seasonal and expansion releases, such as new seasonal events, updates for the upcoming week in the game, and server maintenance updates.
On Saturday, Twitter owner, Elon Musk also announced that the company has applied "temporary" limits to the number of tweets users can view on the platform. These are 10,000 tweets per day for verified users (Twitter Blue subscribers), 1,000 tweets per day for unverified users, and 500 for unverified new users.
Make sure to follow our Destiny outlet Destiny Bulletin on Twitter, Facebook, and Instagram for all things Destiny 2 and Bungie.
Destiny 2 Lightfall is now available on PlayStation, Xbox, and PC.
Next: