There have been a lot of leaks circulating on the internet since the release of Lightfall, some for Destiny 2's upcoming season—Season of the Deep, others for later in Season 22, and Season 23. Speaking of, Bungie has already confirmed most of the leaked content via its weekly blog post.
Similar to the alleged Power level rework coming to Destiny 2, this one comes from the same source (via Freezing Dart), who has now shared images of the new dungeon and Trials of Osiris weapons coming in Destiny 2 Season of the Deep.
Before we get into the leaks, this is your warning to click away since we're about to dive into the spoiler territory for the next season's dungeon and it will probably give away the location where it's taking place.
Destiny 2 Season of the Deep Dungeon Weapons
Now that's out of the way, let's talk about the new dungeon weapons first. According to the leaked images, four new dungeon weapons are coming in Destiny 2 Season of the Deep, titled "Oceanic dive equipment."
Stasis Wave Frame Breech Grenade Launcher
Solar Rapid-Fire Glaive
Solar Aggressive Submachine Gun
Stasis Aggressive Rocket Launcher
Just like other weapons in the game, these new dungeon weapons will also feature a unique Origin trait called Restoration Ritual.
Restoration Ritual: Reviving allies or killing enemies with finisher reloads this weapon and readies an emergency reload for the next time this weapon runs out of ammo.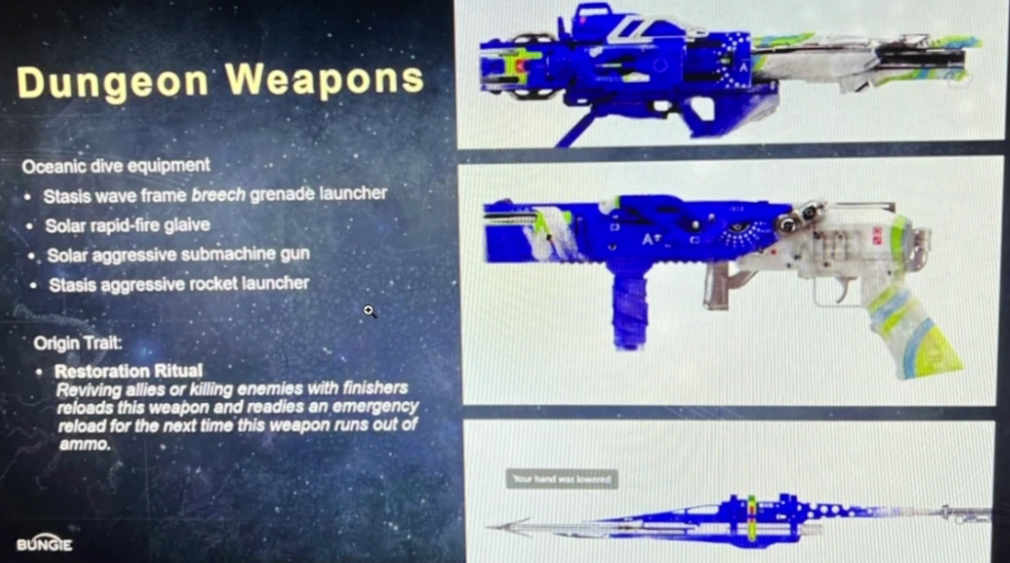 Destiny 2 Season of the Deep Trials of Osiris Weapon
In Season of Defiance, players received a new submachine gun called The Immortal, which is currently one of the most sought-after weapons for both PvP and PvE. For Season of the Deep, it looks like we're having a new Arc Adaptive Glaive called Unexpected Resurgence. The perks for this weapon can be found below, as per the leaked image.
Left Perk: Auto-Loading Holster, Feeding Frenzy, Subsistence, Tilting at Windmills, Shot Swap, Feedback Shield, Thresh
Right Perk: Rampage, Surrounded, Vorpal Weapon, Frenzy, Impulse Amplifier, Unstoppable Focus, Close to Melee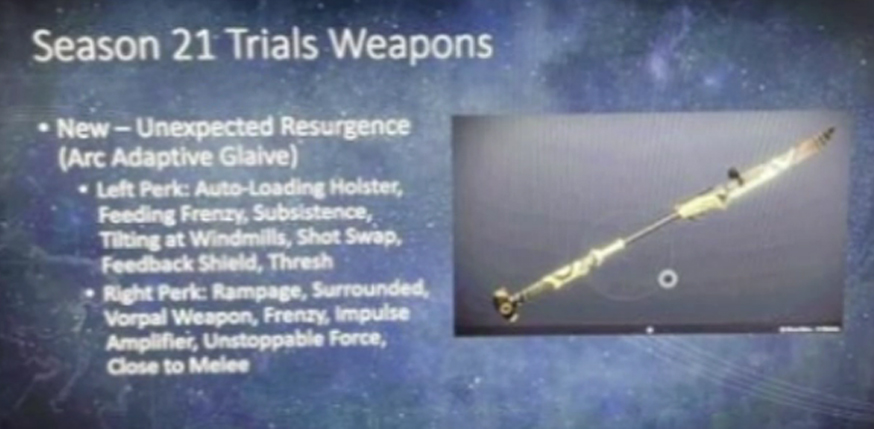 Along with that, we also have a list of exotic weapons and armor upgrades that are coming with Season of the Deep. Recently, Bungie released a new blog post going over some of the changes made in Destiny 2 recently and talking about future updates.
In that article, Bungie confirmed that players will soon be able to focus exotic armor pieces in Destiny 2, with two tiers of focusing; Advanced and Precision Decryption. Learn everything about Exotic Armor Focusing here.
Make sure to follow our Destiny outlet Destiny Bulletin on Twitter, Facebook, and Instagram for all things Destiny 2 and Bungie.
Destiny 2 Lightfall is now available on PlayStation, Xbox, and PC.