Just like many other exotic weapons in Destiny 2, Season of the Deep's newest exotic scout rifle, Wicked Implement also comes with an exotic catalyst. This exotic weapon was released as part of a three-week-long secret quest line that was tied to Fishing, a new fun activity added in season 21.
Players can unlock this new exotic via the Whetstone exotic mission in the Deep Dives seasonal activity. However, instead of you starting the mission directly from the Destinations tab, this time, you need to offer a series of items in the Deep Dives activity in order to activate the exotic mission. Check out our complete guide on how to get started here.
Related: Bungie says it has 'no intention' of abandoning Destiny regardless of how Marathon performs
Now, let's talk about how you can unlock the new Wicked Implement exotic catalyst in Destiny 2.
How to get Wicked Implement Exotic Catalyst in Destiny 2
In order to get the exotic catalyst for Wicked Implement, you need to complete the higher-tier Deep Dives activity. While not guaranteed, the chances of getting the exotic catalyst to drop on tier 7 are much greater than completing the Deep Dives on tier 5 or tier 3. For this reason, we recommend completing the Deep Dives on Tier 7.
Completing the Deep Dives on tier 7 will not only unlock the new exotic catalyst but will also give you more loot, compared to the normal version. You can watch the video guide on how to complete tier 7 Deep Dives below.
What does Wicked Implement's Exotic Catalyst do?
The exotic catalyst's perk is called "Hadopelagic Tribute" which says, "Collecting Stasis shards gradually overflows the magazine." The exotic catalyst for this weapon further enhances the Tithing Harvest trait of the weapon, which creates Statis crystals on precision final blows when Creeping Attrition is active.
Intrinsic – Creeping Attrition: Rapidly landing precision hits causes targets to become slowed.
Trait – Tithing Harvest: Precision final blows while Creeping Attrition is active create a Stasis shard that returns to you. Collecting Stasis shards refills the magazine.
Exotic Catalyst – Hadopelagic Tribute: Collecting Stasis shards gradually overflows the magazine.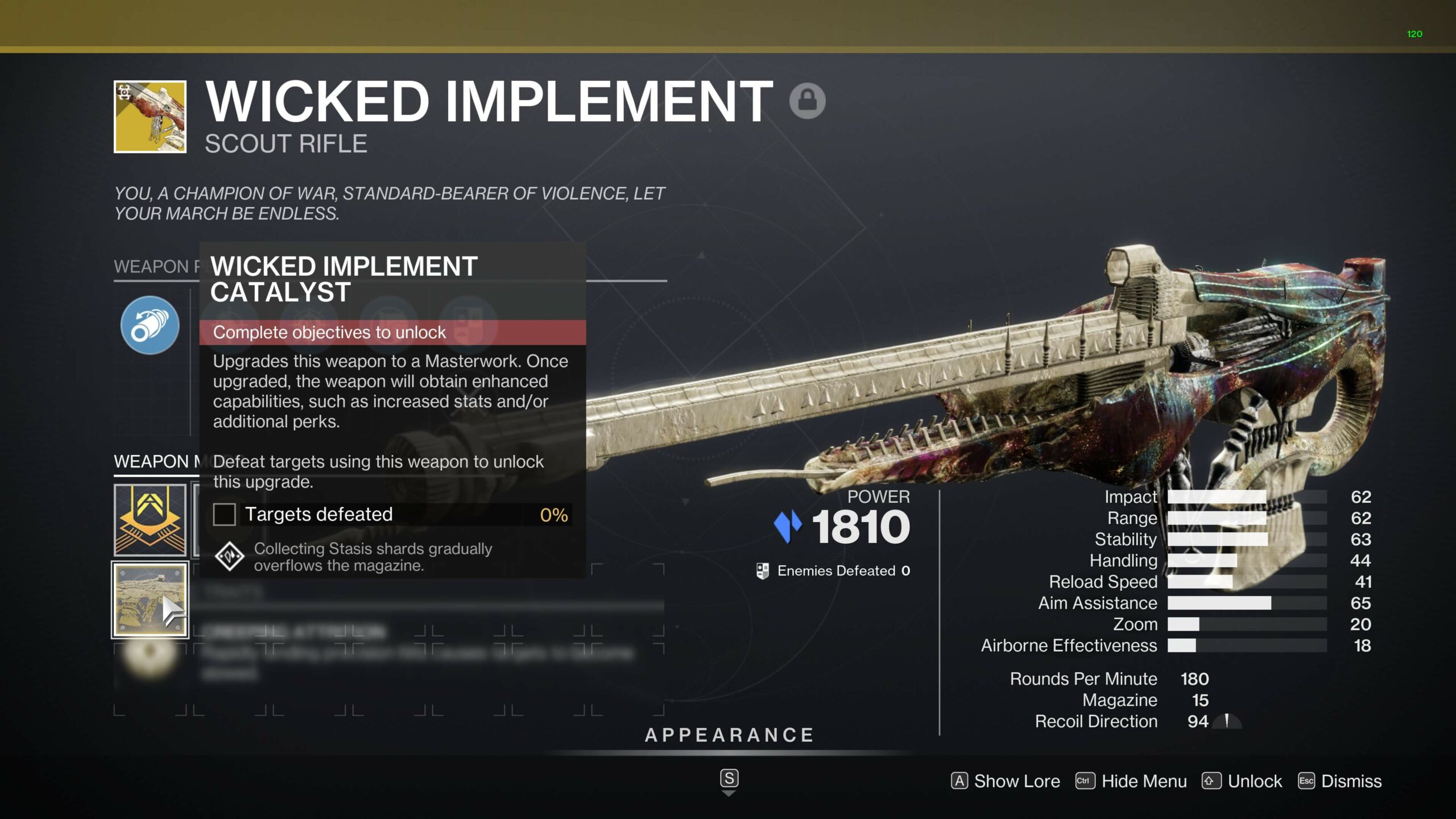 And there you have it! What do you think about Wicked Implement and its exotic catalyst? Let us know your thoughts in the comments below.
Make sure to follow our Destiny outlet Destiny Bulletin on Twitter, Facebook, and Instagram for all things Destiny 2 and Bungie.
Destiny 2 Lightfall is now available on PlayStation, Xbox, and PC.
Next: